Ellis, Wyenandt Distinguished Service Winners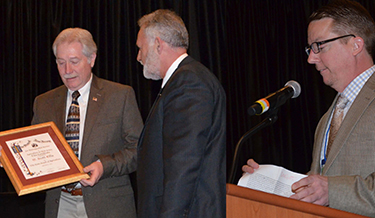 SCOTT ELLIS
Scott Ellis is a leader in the agricultural industry in New Jersey. He has served in leadership positions while being involved in agriculture for the past 40 years, where has helped shaped New Jersey agriculture with a voice of clarity and compromise when seeking solutions to problems faced by New Jersey agricultural producers.
He was President of the State Board of Agriculture in 2010-2011, capping a four-year term on the Board; is a Past President of the Mercer County Board of Agriculture; served as Chairman of the New Jersey Fish & Game Council; has been a President and Vice President of the Vegetable Growers Association of New Jersey, Director of the New Jersey Farm Bureau, and Chairman of the Mercer County Soil Conservation District.
He has served all those roles while being a full-time farmer, growing fresh-market sweet corn; soybeans and field corn. His sweet corn can be found at local farm markets and grocery stores throughout the state. Scott believes his most important accomplishment has been the ability to make a profitable full-time living as a farmer in New Jersey.
He took over the farm from his father and has continued successfully in the business in Yardville. Scott has implemented numerous conservation practices on his farm, and also employs Integrated Pest Management to reduce pesticide use. His 700-acre operation includes two permanently preserved tracts.
Scott was honored as the New Jersey Vegetable Grower of the Year in 2014, awarded the Farm Bureau Outstanding Service to New Jersey Agriculture award in 2005, and was the Rutgers University Integrated Pest Management Grower of the Year in 1993.
Scott is a graduate of Steinert High School and Delaware Valley College. He is supported in his farming efforts by his wife, Charmaine, and their two children, Erin and Lauren.
ANDREW WYENANDT
Dr. Andrew Wyenandt has been an Extension Specialist at Rutgers University since 2005. He is an associate professor in the department of Plant Biology and Pathology, School of Environmental and Biological Sciences and Rutgers University CY.
Andrew combined with two other authors to publish the book, "Fungicide Resistance in North America" in 2016. He also has written for more than 20 electronic publications and journals. The topics have included fungicide resistance, skin separation in bell peppers, cucurbit viruses in commercial fields and the effects of nitrogen fertilizer on pumpkin yield.
He has also been a source for articles in the Philadelphia Inquirer and has been interviewed by NJN News and ABC 6 News on the issues of downy mildew and late blight.
Andrew also has chaired and organized several organizations and activities. They include being chair of the Fungicide Resistance Development in North America for the 21st Century Workshop and Chair of the Northeast Vegetable IPM Working Group.
He has been President of the Northeast Division Phytopathological Society, is on the board of directors for the New Jersey Agribusiness Association, and is a member of the Rutgers Cooperative Extension Vegetable Working Group and Mid-Atlantic Vegetable Working Group.
Dr. Wyenandt's service to Rutgers includes being on the Executive Committee for the Department of Plant Biology and Pathology, being a section leader for Sustainable Agriculture Systems in the Department of Plant Biology and Pathology, and on the Greenhouse Committee for the Rutgers Agricultural and Research Extension Center in Bridgeton.
Andrew's education includes a Bachelor of Science degree from Cornell University, a Master's of Science in Plant Pathology from The Ohio State University and a PhD in Plant Pathology from The Ohio State University. His dissertation was on the subject of Fruit Rot of pumpkin and its control with cover crop mulches.