EAB is in New Jersey. Plan for EAB now if you have ash. Know what's at risk: how much ash you have, its size and quality, and where it's located. Consider the ecological, aesthetic, and economic value of your ash, your tolerance of risk, and your objectives for ownership.
If your land is enrolled in Farmland Assessment or the Forest Stewardship Programs, you must follow your approved forest management plan or an approved amendment.
Contact your consulting forester if you wish to change your planned activities, treatment schedule, or management objectives. Remember that the state forester needs to approve any changes before the management activity begins.
With an approved forest management plan that addresses EAB, you can salvage and restore ash in riparian areas when they follow the prescribed Best Management Practices [PDF 6.3MB]
More information on Farmland Assessment Program, Forest Stewardship Program, and Approved Consulting Foresters www.myhealthywoods.nj.gov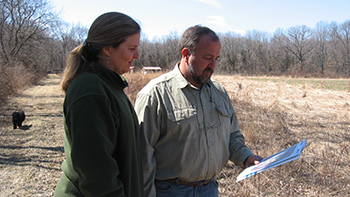 Salvage Ash Logs
Work with a consulting forester or Certified Tree Expert to get the most from your forest. Studies have shown that owners who use professional forestry services before they cut make more money and are more satisfied with the results than owners who sell timber on their own.
In an emerald ash borer infestation, it might become necessary to remove at-risk ash trees. Below is a list of companies who use ash trees.
Ash Utilizers List [294K PDF]
Emerald Ash Borer Biological Control Release Program
As a means to manage EAB, the State Department of Agriculture and State Forest Service have been working with the USDA Animal Plant Health Inspection Service (APHIS) to obtain and release insect species that specifically parasitize various life stages of the EAB. We are looking for private landowners to participate in this program to help control EAB populations.
To be a part of the Optimal Stewardship and/or Farmland Assessment sites for biological control release program, landowners should have the following:
40 acres of forested area
No less than 25% ash
Ash trees in relatively healthy condition
Variety of size classes
EAB detected in close proximity to the release site
EAB densities should be low to moderate
Easy to access to release sites
100 meters (328 feet) or more from a road or non-forested area
If you are interested in participating in the NJ EAB Biocontrol Program, contact:
Joseph Zoltowski, NJDA Plant Industry Division Director
joseph.zoltowski@ag.state.nj.us
609-203-8093
If you do not have 40 acres, ask an adjoining neighbor to participate with you.
Report signs of the beetle to the Department of Agriculture
at 609-406-6939.