Birth to 3 Years
Members
Calendar (Meetings will be virtual from 1130 am - 130 pm)

April 21, 2022
June 16, 2022
August 18, 2022
October 20, 2022
December 15, 2022

Agendas
NJ County Councils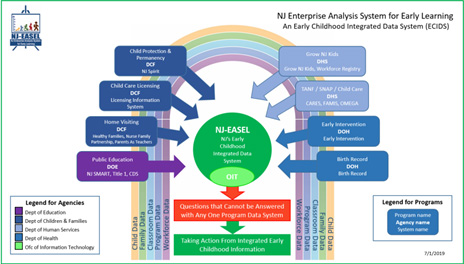 Background
---
NJ Enterprise Analysis System for Early Learning (NJ-EASEL) is New Jersey's Early Childhood Integrated Data System (ECIDS). NJ-EASEL is a cross-agency collaboration designed to collect and integrate early childhood data to measure the impact of early care and education programs on the children and families they serve.
NJ-EASEL was built as a result of Governor Christie's Executive Order, No. 77, in 2011, which established the Early Learning Commission (ELC). The ELC consists of Commissioners (or their designees) from the following state departments: education, children and families, health and human services. The Chairperson of the New Jersey Council for Young Children (NJCYC) is also a member of the ELC.
The ELC is charged with recommending improvements to the quality of, and access to, early learning and development programs in New Jersey in the most cost-effective manner possible. The ELC works in coordination with administrators from the state departments and labor, known as the Interdepartmental Planning Group (IPG), along with stakeholders across disciplines of education, health, labor, human services, children and families and Head Start, which make up the Governor-appointed early childhood advisory council, NJCYC.
The ELC serves as the authority for escalation of issues providing vision and direction to the IPG. The IPG is responsible for high-level NJ-EASEL decision making, provides vision and direction for the NJ-EASEL Steering Committee, sets priorities, and makes decisions necessary for NJ-EASEL project alignment across Departments. Most importantly, the IPG represents the NJ-EASEL User Group.
Purpose
---
The NJCYC members through its Data Committee, developed NJ-EASEL Questions and Objectives related to student outcomes and program efficacy. These questions and objectives were the catalyst for the development of NJ-EASEL. The purpose of NJ-EASEL is to provide an understanding of the collective impact of multiple programs to enable program administrators to make informed business, fiscal, and policy decisions to provide better program delivery, and access to, early care and education for children. To accomplish this, the system must ultimately integrate 15 data systems. By sharing data across the multiple agencies, New Jersey gains greater capacity to address the NJ-EASEL Questions and Objectives, which are continually referenced to ensure the project stays within scope.