We Remember
Dr. Paul B. Winkler November 3, 1936 – July 12, 2016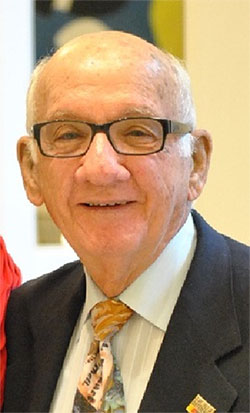 Philip Kirschner, Chairman and Lawrence M. Glaser, Executive Director of the New Jersey Commission on Holocaust Education have announced the passing of Dr. Paul B. Winkler, retired Executive Director of the Commission:
Among the most difficult messages we send to one another are those that tell us of friends, colleagues or relatives who have passed away. On July 12, 2016, Dr. Paul B. Winkler, whose soul is now at peace and whose legacy remains as a blessing to all of us who knew him and marveled at his extraordinary humanity, passed away.
Paul was formally involved in Holocaust/genocide education and prejudice reduction education since 1974. This interest began during his youth and was developed, encouraged, and learned from his parents and grandmother through their community involvement. Starting as a teenager and through the remainder of his adult years he was involved in social causes. After completing his bachelor's degree in education, Paul began his educational experience as an elementary school teacher. He also continued his own education, completing a doctoral degree in educational leadership at Fairleigh Dickinson University in 1974.
His educational activities of over 50 years included teacher, principal, superintendent, Regional Education Director, New Jersey Deputy Assistant Commissioner of Education for Exceptional Children at the New Jersey Department of Education, and Director of a Teacher Training Center. He wrote many articles dealing with Holocaust and genocide education, including articles about "Darfur" published in the 2007 NJEA Review and about Terrorism and 9/11 in 2008. His most recent publication is "Teaching the Unspeakable – The New Jersey Story of Holocaust/Genocide Education." The book tells of the 30 year history of Holocaust/Genocide education in New Jersey.
During all of those experiences, Dr. Winkler coordinated Holocaust/genocide education in the State of New Jersey, sometimes as a volunteer, and then as a part-time employee after retiring in 1990. The efforts have seen a council, and eventually a Commission on Holocaust Education established in New Jersey and the Holocaust/genocide mandate, which was signed into law in 1994. Dr. Winkler, while coordinating all Holocaust/genocide activities, also trained teachers and made direct presentations to students. Under his leadership, many collaborative efforts occurred including the Italian, Armenian and Amistad Commissions, as well as the Martin Luther King Commission. Many curriculum guides were developed under his leadership regarding genocide from Native American to Darfur today.
He received numerous awards and citations including the Philip Forman Human Relations award from the American Jewish Committee of Central New Jersey, NJEA Humanitarian Award, the MLK Academy of Leaders Award, the outstanding educator award from ASCD, and numerous legislative acknowledgments from the New Jersey State Government. In honor of his 70th birthday and over 50 years in education, his family, friends and colleagues established the Paul B. Winkler Endowment to be awarded to an elementary educator each year.
He is survived by his wife of 60 years, Cecelia, son Jeffrey and his wife Laura, daughter Sharona, five grandchildren, Elie, Sammy, Racheli, Adam and Amy, one great grandchild, Celeste and brother Henry and his wife Gayle.
Services took place at 10:30 a.m. on Wednesday, July 13, 2016 at Platt Memorial Chapel, 2001 Haddonfield-Berlin Road, Cherry Hill, NJ 08003, followed by burial at the Mt. Sharon Cemetery, 502 E. Springfield Road, Springfield, PA 19064.
May we all remember Paul fondly and strive to live up to the example he set and the potential he saw in others.
Memorials
Memorial contributions can be made to any of the following in Paul's name:
Make check payable to: The College of New Jersey
Send check to:
Charles Wright, Director
Office of Development
TCNJ Annual Fund
The College of New Jersey
PO Box 7718
Ewing, NJ 08628
PLEASE NOTE ON CHECK THAT IT IS FOR THE DR. PAUL B. WINKLER ENDOWMENT FUND.
You can also make your donation on-line: https://community.tcnj.edu/sslpage.aspx?pid=314
Where it says "Designation" – click the arrow for the pull down menu and click "Paul B. Winkler Endowment Fund"
The fund will offer a scholarship each year to a teacher who enrolls in the NJ Commission on Holocaust Education Summer Seminar which takes teachers to sites in Central Europe helping them to better understand the Holocaust, the events leading to it and the goals of German educators today.
Make check payable to: GHMEC - Dr. Paul Winkler Scholarship Fund
Send check to:
GHMEC
1301 Springdale Road
Cherry Hill, NJ 08003
Seashore Gardens Living Center
22 W. Jimmie Leeds Road
Galloway, NJ 08205
Disclaimer
The New Jersey Holocaust Commission is an autonomous body operating under its own policies and positions. It acts as a resource to the Department of Education to assist schools with various aspects of meeting the requirements of the mandate to provide Holocaust and genocide education. The commission provides curriculum outlines and suggested activities; identifies and publicizes demonstration sites for other districts to contact; and recommends informational resources and materials for teachers and students to use in the state.
Copyright © 2003-04 · NJ Department of Education · All Rights Reserved