Education Services Fee Schedule for 2019-2020 School Year
CBVI provides educational services from birth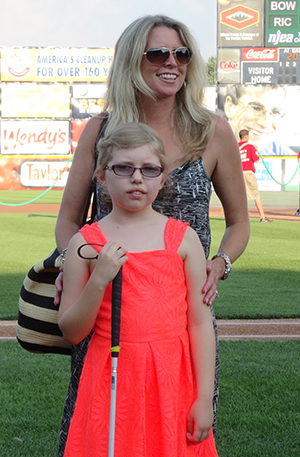 through 21 years of age, to eligible children and their families. These services are designed to allow students who are blind or vision impaired to participate equally with their sighted peers in classroom activities.

Once a child is found eligible for services, CBVI works closely with the student, their family members and local school personnel. Teachers of the Blind or Vision Impaired provide educational instruction to the following students:
Infant Services (birth to age 3)
CBVI staff will assess a child's vision and, if eligible, offer specialized instruction tailored to his or her needs in the home. CBVI staff also works closely with family members, early intervention providers and health care professionals to assist the child in making a smooth transition to preschool at age three.
School Age Services (ages 3 to 21)
CBVI contracts with local school districts to provide comprehensive services to children in school. These services include assessment and evaluation of a child's visual abilities, and when applicable, instruction in Braille and blindness- related skills.
Instructors provide information and training to family members, teachers, child study teams, and other school personnel. CBVI also will loan the student appropriate adaptive equipment and available adaptive educational materials.
Deaf-Blind Services (birth through 21)
CBVI offers special services to help meet the needs of children who have both vision and hearing deficits. These include assessing the level of the child's impairment, consulting with family members, teaching staff, and loaning the student adaptive equipment and materials.
Instructional Resources
The George F. Meyer Instructional Resource Center provides support to the New Jersey Commission for the Blind's Teachers of the Visually Impaired to provide appropriate accessible instructional materials and technical support to agency registered students who are blind and low vision. Accessible materials include Braille Textbooks, Large Print Textbooks, Assistive Technology and Adaptive Educational Aids.
Other special services...
These special services are also available to all students when appropriate:
Training in how to travel independently
Eye Health Nursing Services
Vocation Rehabilitation / Transition Services
Summer Development Programs
For more information on the educational services provided by the Commission for the Blind and Visually Impaired, contact Eva Scott, Director of Blindness Education at 856-482-3737 or e-mail Eva.Scott@dhs.nj.gov