TAG's Message: Priorities for 2008
By Maj. Gen. Glenn K. Reith, The Adjutant General- New Jersey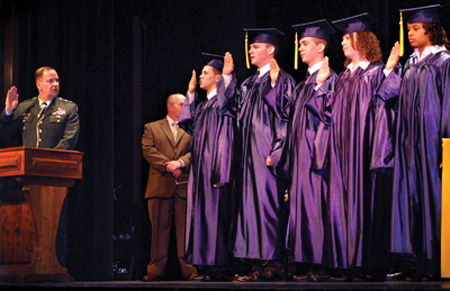 Maj. Gen. Glenn K. Rieth swears in Youth ChalleNGe Academy Cadets (left to right) Edwin Castro, Ryan Curran, Stephen Nepa, Candace Pollock, and Danielle Grinaway in to the Army. All except Grinaway joined the New Jersey Army National Guard. Photo by Kryn P. Westhoven, NJDMAVA/PA.

These are my priorities for 2008: providing mission-ready Soldiers and Airmen to defend our nation; maintaining the ability to respond to contingencies at home; and assisting families during deployments. With half of the New Jersey Army National Guard going overseas this year, these priorities take on a new meaning and significance.
With the Soldier Readiness Process at Fort Dix behind them, the 50th IBCT is now finishing up pre-mobilization training at Fort Indiantown Gap, Pa. Next stop will be Texas before their final departure overseas. So far, I am extremely pleased with the preparation and training of our troops. I feel confident that New Jersey is providing our nation with the best and brightest, most motivated and dedicated Soldiers possible.
The half of our Soldier force that remains in-state – and their Airmen counterparts – is equally up to the task of responding to any contingency that may arise at home. Will it be tough? Will it be a strain? Absolutely! But once again, I am positive that we have the determination and professionalism to come through for the citizens of this state.
As proud as I am of all our units deploying overseas this year, I can't help but reflect upon the void I feel when I lose operational control over our hometown troops. For about a year, the active duty owns the men, women and equipment of half of our Soldier force. While New Jersey cannot legally interfere with the day-to-day operational tasking of our troops when they are deployed overseas, we can help to make their jobs easier. By assisting families of deployed Soldiers and Airmen, we can add to the piece of mind of both those left behind and those serving on foreign soil.
Look through my recent TAG messages – my theme has been to emphasize family support through our Family Assistance Centers, Family Readiness Groups, and other avenues of support and assistance for troops and families. Let me now highlight another partner in supporting our military members, the Employer Support to the Guard and Reserve (ESGR). I would like to welcome my good friend, retired Col. Carmen Venticinque as the new chairman of the New Jersey ESGR Committee. Carmen and his crew have so far done a great job hosting employers as they visited our Soldiers that were going through the Soldier Readiness Process at Fort Dix. Visits to Fort Indiantown Gap and Fort Bliss will truly give any uninitiated civilian boss a deeper appreciation for what their Guardsmen employees are going through.
As we prepare to send off our largest group of Soldiers since World War II, we are glad to welcome home the Airmen of the 108th Security Forces Squadron. Lt. Col. Turk and his troops have done an excellent job…at the same time making history. This was the first time that a National Guard unit was in charge of security at Baghdad Airport…in command of National Guard, active duty, foreign and contractor security teams. Well done and welcome back!
This year will surely finish up much differently than it started. One thing will be consistent though: that the New Jersey National Guard will always be ready to defend our nation, protect our state's citizens, and care for our troops and their families.