Comprehensive Plan of Action Item #10
Reduce Water Craft Impacts


Barnegat Bay's 75-square-mile, environmentally sensitive estuarine system consists of aquatic vegetation, shellfish beds, finfish habitats, waterfowl nesting grounds and spectacular vistas and provides open waters for recreational boaters and personal watercraft operators each summer. Certain activities by boaters and personal watercraft operators however, can harm the Bay by damaging submerged aquatic vegetation and disrupting wildlife and aquatic habitats.

In 2011 - 2012 the DEP met several times with a wide range of stakeholders, including the academic community, scientists, recreational boaters, boating associations and manufacturers, marina owners, municipal leaders, environmentalists and concerned citizens, to identify strategies and actions that would reduce the impacts of improper boating and personal water craft use on Bay ecology.

The resulting strategy became the identification of 16 ecologically sensitive areas in Barnegat Bay. Ecologically sensitive areas are shallow areas where submerged aquatic vegetation and wildlife are found. These places provide shelter and feeding grounds for fish, crabs, birds and other animals.

Stakeholders also requested that three key actions be initiated. These include boater and public education; increased enforcement of existing boater regulations; and, research regarding the effectiveness of the existing Marine Conservation Zone in protecting ecologically sensitive areas.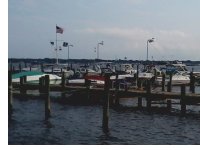 In early 2012 the 16 ecologically sensitive areas were designated online by using GIS software and a map for them was added to this website. This same map became part of a poster and flyer that were developed for boaters that highlight these areas and showcase green boating practices that reduce the impact of boats and personal watercraft around these areas. These materials are still being distributed in a variety of ways through summer, 2012.

During the spring and summer of 2012, marine enforcement officers conducted three compliance and education sweeps and issued warnings or summons when boater regulations were being violated. These sweeps were complemented by visual assessments of the 16 ecologically sensitive areas to determine the recreational use of these areas.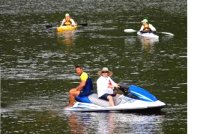 Finally, research regarding the reduction of boater and personal watercraft impact on the existing Marine Conservation Zone began during the summer of 2012. The results of this research, along with the visual assessments of the 16 ecologically sensitive areas, will provide a better understanding of the recreational use of the Bay and the impact that boating has on these areas. This information will assist the department in determining appropriate management practices for the future.

To learn more about the 16 ecologically sensitive areas, go to Reduce Boating Impacts (pdf)

To learn more about the research, go to Barnegat Bay Research (pdf)

For information about prior and future stakeholder meetings, go HERE.



For more information, contact:
Terry Caruso
, Green Acres Program, DEP / (609) 984-0508
Kerry Kirk Pflugh
, Office of Communications, DEP / (609) 633-7242