NEW JERSEY STUDENTS PLACE FIRST IN NATIONAL CONSERVATION POSTER CONTEST
For Immediate Release: April 4, 2008
Contact: Lynne Richmond
(609) 633-2954

(TRENTON) – Three New Jersey students earned top honors in a national poster contest designed to raise awareness of natural resources and related issues among young people.

"For the past several years, young New Jersey artists have won the National Conservation Poster Contest, highlighting the great talent we have in the Garden State, as well as the students' desires that we, in government, protect our natural resources for all of us to enjoy in the future," said New Jersey Secretary of Agriculture Charles M. Kuperus. 

One hundred and fifty-four posters from 35 states were entered in the 17h annual contest.  Of the 15 winning posters chosen nationwide, New Jersey students produced four, three taking first place and one taking second place in their grade level categories.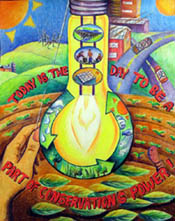 Lisa Feng of Bridgewater placed first in the Grades 10-12 category;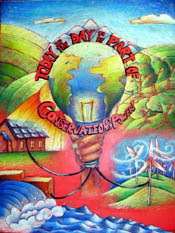 Alicia Feng of West Windsor placed first in Grades 7-9;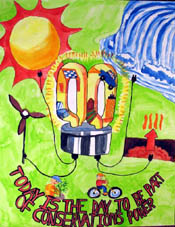 Lillian Hong of Ramsey placed first in Grades 2-3.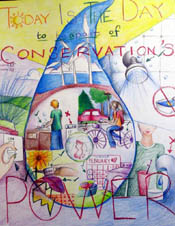 In addition, another state level winner, Juliana Wu of Holmdel, gained second place in Grades 4-6 in the national competition.  All were first place winners in the state level competition sponsored by the New Jersey Department of Agriculture Soil Conservation Committee.




The competition was sponsored by the National Association of Conservation Districts and the NACD Auxiliary in cooperation with the Washington County Soil Conservation District in Maryland.  Each first place winnerreceived a $100 prize and the second place winner received a $75 prize. 

The students' posters illustrated the theme of "Today is the Day to be Part of Conservation's Power!"  The posters were displayed at the NACD's Annual Conference held in February in Reno, Nevada. 

There were more than 1,000 entries in the statewide contest.  First place winners received $200 bonds, second place $100 bonds, and third place $50 bonds. 

New Jersey's 15 soil conservation districts work to conserve and manage soil and water resources in the state. For more information about local conservation poster contests or other conservation education programs, contact your local soil conservation district or the State Soil Conservation Committee at (609) 292-5540.