TOP SEAFOOD CHEF SET TO REPRESENT NEW JERSEY IN NATIONAL COMPETITION IN AUGUST
Winner of Statewide Cook-off Practices Cooking Best Jersey Seafood Recipe
For Immediate Release: June 23, 2008
Contact: Lynne Richmond
(609) 633-2954

(TRENTON) – New Jersey Secretary of Agriculture Charles M. Kuperus today rooted on a chef from Toms River who will prepare Pan-Seared Local Black Sea Bass in a national seafood competition in August.  Kuperus and other judges tasted the dish at a practice cook-off at the New Jersey Restaurant Association's Trenton office.

Peter J.Fischbach, the executive chef and Food Service Director for Gourmet Dining Services at the New Jersey Institute of Technology in Newark, was the winner of the 2008 Jersey Seafood Challenge in January, and is preparing to represent the Garden State in the Great American Seafood Cook-off in New Orleans in August.

"New Jersey has a vibrant seafood industry with 100 different species of fish and shellfish caught or harvested by local fishermen and fish farmers," said Secretary Kuperus.  "Black sea bass is a local delicacy that Chef Peter prepares expertly using not only Jersey Seafood, but other locally produced and grown ingredients to highlight the best New Jersey has to offer.  We hope the judges in New Orleans enjoy this dish as much as we have and put New Jersey on the map as one of the top seafood states in the nation."

Secretary Kuperus was joined by Jim Weaver of TrePiani in Princeton, Gary Giberson of the Lawrenceville School, Colin Marsh, a culinary educator, and Deborah Dowdell of the Restaurant Association in judging Fischbach's performance and tasting his signature recipe.  While this year's regulations have not been given to the participating chefs, Fischbach used last year's criteria for the competition and even made it more difficult for himself in the mock cook-off demonstration.  He gave himself one hour to prepare 10 dishes.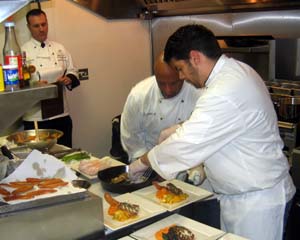 The Great American Seafood Cook-off is being held August 2-3 at the Louisiana Foodservice Expo in the Morial Convention Center.  The event is limited to 20 chefs with the champion being named King or Queen of American Seafood.  The cook-off is televised by the Food Network and is part of the Louisiana Foodservice Expo.  Fischbach will travel there with his sous chef Erik Weatherspool, owner/chef of Bistro 44 in Toms River.

Fischbach said he chose black bass as his signature dish for its great flavor, and felt the more practice he has in preparing it, the better he will get and the better chance he will have to win.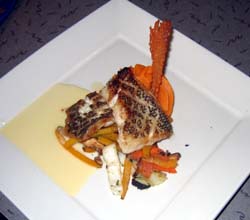 "Using the best fish that our state has to offer will give me an edge and if I execute what we practiced perfectly, we'll bring home the trophy," said Fischbach.  "I'm looking to source everything in the dish from New Jersey and showcase it."

Fischbach competed against 10 other professional chefs in New Jersey to win the chance to compete on the national level.  The Jersey Seafood Challenge was held at the Academy of Culinary Arts at Atlantic Cape Community College by the Department of Agriculture in cooperation with the Academy and the New Jersey Restaurant Association, Garden State Seafood Association, New Jersey Marine Sciences Consortium and New Jersey Sea Grant; Slow Food-New Jersey; Eat-Drink New Jersey; Rutgers Cooperative Extension; and New Jersey Chapters of the American Culinary Federation.

The value of New Jersey's 2006 seafood catch was $145.6 million.  The National Marine Fisheries Service estimates that for every one dollar of landed value, six dollars are generated in the overall economy.

New Jersey is home to six major commercial fishing ports, with four ranked among the top fifty ports in the nation in terms of value of the harvest:  Cape May brought in 89.2 million pounds valued at $46.3 million in 2006; Barnegat Light landed $25.5 million of fish, primarily sea scallops and monkfish; Point Pleasant's 2006 catch of 25.8 million pounds was valued at $22.6 million; and Atlantic City brought in $24.2 million, mostly ocean quahogs and surf clams.

The top species by dollar value harvested in New Jersey included:  sea scallops -$58.5 million; surf clams-$25 million; hard clams-$7.6 million; blue crabs-$6.0 million; ocean quahogs-$5.9 million; fluke-$5.0 million; monkfish-$4.5 million; Atlantic mackerel-$9.3 million; longfin squid $1.8 million; and American lobster- $2.5 million. 

For more information about New Jersey seafood, visit the Jersey Seafood website at www.jerseyseafood.nj.gov.