NORZ AWARDED 2010 OUTSTANDING YOUNG FARMER AWARD AT ANNUAL STATE AGRICULTURAL CONVENTION
For Immediate Release: February 11, 2010
Contact: Lynne Richmond
(609) 633-2954

(EAST BRUNSWICK) – Richard A. Norz, a diversified Somerset County farmer, was honored February 9 as the 2010 New Jersey Outstanding Young Farmer at the New Jersey Agricultural Convention held in East Brunswick.

"From innovations on his own farm to his involvement in the agriculture community, Rich Norz is committed to ensuring a strong future for New Jersey agriculture," said New Jersey Secretary of Agriculture Douglas H. Fisher.  "This state needs energetic young farmers like Rich to lead the way as the industry grows and adapts to the demands of the consuming public."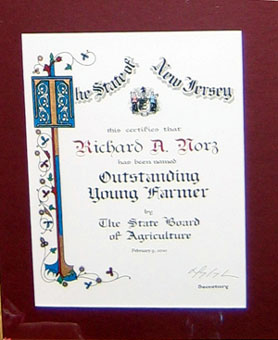 Norz is a 40 year old fourth generation farmer in Hillsborough, working the farm started by his grandparents in 1920  as a dairy and poultry farm.  Currently, he and his family own and rent 1,425 acres, some of which is enrolled in the state's farmland preservation program.  Norz-Hill Farm grows a variety of produce, which is sold at an on-farm market.  In the fall, the farm hosts a pumpkin patch, hayrides, haunted trail and corn maze.  They also provide educational tours for grade school and pre-school children.  In 2008, more than 20,000 people visited the farm.

On the dairy side, Norz' goal is to create the perfect Holstein through selective breeding.  He has bred or developed 70 animals rated "excellent."  His cows have won Grand Champion and Junior Champion in the state several times and he has been named Premier Breeder four times.  In 2009, Norz decided to take a break from the milking cows, but retained 200 heifers with the hopes of starting to milk again in spring of 2010. 

As a sideline, Norz farms out his cows for what he calls "Cow Advertising."  With the help of the cows' New York talent agent, some of the cows have appeared on Saturday Night Live, NBC News, Vogue Magazine and with Martha Stewart in a "Got Milk?" ad. 

Norz balances the requirements of a profitable business with sensitivity to the environment through the use of Integrated Pest Management, works with the federal United States Department of Agriculture on conservation projects and has reduced operating expenses and increased farm revenue through a variety of best management practices.

In the community, Norz has served as President and various other officers and positions for the New Jersey Holstein Association, New Jersey Junior Holstein Association, Somerset County Board of Agriculture, New Jersey 4-H Dairy Advisory Council and the New Jersey National Holltein Convention.  He is a member of the Somerset County Agriculture Development Board, Hillsborough Wildlife Commission and Hillsborough Agriculture Committee.  He also is active in Somerset County 4-H.

Norz is one of 10 finalists in the National Outstanding Young Farmer competition, being conducted in Raleigh, North Carolina February 11-14. 

Since the United States Jaycees presented the first award, five New Jersey farmers' names have been added to the National OYF Honor Roll. They include Abbott Lee (1985), James B. Giamarese (1989), Robert Von Thun, Jr. (2001), Jeffrey VanderGroef (2005) and H. William Sytsema (2009).

The OYF program is the oldest farmer recognition program in the United States, selecting its first group of national winners in 1955, and is administered by the U.S. Junior Chamber of Commerce. The goals of the OYF program are to foster better urban-rural relations through the understanding of farmers' challenges, as well as the appreciation of their contributions and achievements; to bring about a greater interest in farmers/ranchers; and to help build an urban awareness of the farmers' importance and impact on America's economy.  The OYF program encourages a greater interest in agriculture through the appreciation of the farmers' contributions and achievements and recognizes local citizens' contributions and encourages better urban-rural relations. The National OYF program is sponsored by Deere & Company, supported by the Outstanding Farmers of America (OFA) Fraternity and the National Association of County Agriculture Agents (NACAA), and administered by the United States Junior Chamber of Commerce.

For more information on New Jersey's Outstanding Young Farmer Program, visit www.nj.gov/agriculture/about/sba/cover.html.