NJ MAN NAMED NATIONAL OUTSTANDING YOUNG FARMER
2010 New Jersey Outstanding Young Farmer One of Four National Honorees
For Immediate Release: February 17, 2010
Contact: Lynne Richmond
(609) 633-2954

(TRENTON) – Richard A. Norz, a diversified fourth generation farmer from Hillsborough, Somerset County, was chosen as one of four National Outstanding Young Farmers by the United States Junior Chamber (Jaycees) on February 13 at their 2010 Awards Congress in Raleigh, North Carolina.

Since 1999, every New Jersey Outstanding Young Farmer has been among the top 10 National Outstanding Young Farmers.  This is the second year in a row and the fourth time in the last 10 years that the New Jersey OYF was named one of the four National OYFs.

"New Jersey has a long history of innovative, hard-working young farmers and Rich Norz sets a great example of how to be a successful farmer in the Garden State," said New Jersey Secretary of Agriculture Douglas H. Fisher.  "Past New Jersey Outstanding Young Farmers are today's leaders in the state's agriculture industry and we encourage younger members of the agricultural community to get involved to help agriculture grow and thrive in the future."

Norz, who was honored as New Jersey's 2010 Outstanding Young Farmer by the State Board of Agriculture, operates Norz-Hill Farm, growing a variety of produce, operating a farm stand, raising and breeding Holsteins and running an agritourism operation that attracted more than 20,000 visitors last year.  He and his family currently own and rent 1,425 acres, of which about 80 acres is permanently preserved.  The farm was started in 1920 by Norz' grandparents.

"It was a tremendous honor to be recognized by our peers in the agriculture community," said Norz.  "We have always been proud of our farm and our family's accomplishments.  Agriculture for us has been a rewarding way of life. You need to be able to work hard, be dedicated and conscientious of the environment, and thank Mother Nature in the great years."

Norz and his wife, Debbie, traveled to Raleigh for the National Outstanding Young Farmer Competition last week.  They and nine other finalists competed for the top four positions.  The Norz', along with Patrick and Sara McGuire of Michigan, Brandon and Monica Schafer of Minnesota, and Ryan and Annie Williams of Texas were selected as this year's National Outstanding Young Farmers.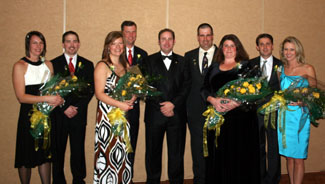 The four couples, who represent the fruit, dairy, hay, grain, vegetable, beef, pork and cotton industries, will travel to Washington D.C. in March of 2011 to meet with United States Secretary of Agriculture Tom Vilsack during Agriculture Week.

L to R: Monica and Brandon Schafer, Sara and Patrick McGuire, Jeff Lank of the Jaycees, Rich and Debbie Norz, and Ryan and Annie Williams.

"It's great to be recognized among states that are more prevalent in agricultural -- it breaks the stereo-type, proving New Jersey offers more then just industry, and that we are THE GARDEN STATE," said Debbie Norz.  "In the future, we will continue to grow our farm, educate the community on farm practices, and promote and support agriculture in the state."

Outstanding Young Farmer nominees must be farm operators, deriving a minimum of two-thirds of their income from farming and must be between the ages of 21-40, not becoming 41 prior to the National OYF Awards Congress.  The OYF program is the oldest farmer recognition program in the United States, selecting its first group of national winners in 1955. The goals of the OYF program are to foster better urban-rural relations through the understanding of farmers' challenges, as well as the appreciation of their contributions and achievements; to bring about a greater interest in farmers/ranchers; and to help build an urban awareness of the farmers' importance and impact on America's economy. 

The National OYF program is sponsored by Deere & Company, supported by the Outstanding Farmers of America (OFA) Fraternity and the National Association of County Agriculture Agents (NACAA), and administered by the United States Junior Chamber of Commerce.

For more information about the New Jersey Outstanding Young Farmer Program, visit www.nj.gov/agriculture/about/sba/cover.html.