Home
>
News
>
Press Releases
>
2010
>
NATIONAL FFA WEEK CELEBRATED BY AG SECRETARY WITH VISIT TO ENHANCED AGRICULTURAL EDUCATION PROGRAM
NATIONAL FFA WEEK CELEBRATED BY AG SECRETARY WITH VISIT TO ENHANCED AGRICULTURAL EDUCATION PROGRAM
Allentown High School One of a Handful of Schools in Nation Participating in Pilot Program
For Immediate Release: February 24, 2010
Contact: Lynne Richmond
(609) 633-2954

(TRENTON) – New Jersey Secretary of Agriculture Douglas H. Fisher today celebrated National FFA Week by attending Allentown High School FFA's annual Sponsors Breakfast.

Allentown FFA is in the top 2 percent of all FFA chapters throughout the nation in achievement.  More than 100 strong, chapter members have excelled in both state and national competitions, with many members going on to be State FFA Executive Board members and then, agriculture community leaders.  The school also was chosen as one of 14 animal science field test sites nationwide in the current school year for new Curriculum for Agricultural Science Education (CASE) program.

"With the world's population growing, there is a need like never before to ensure that young people understand the science and technology demands in agriculture careers," said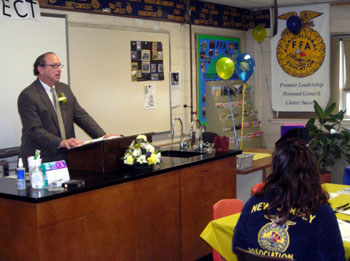 Secretary Fisher.  "Agriculture is cool -- there are many career opportunities for students in agriculture and its related fields.  To be successful, though, these students need rigorous course work in science and math to be able to meet the needs and challenges of the agriculture industry in the future."


Secretary Fisher speaking at the Allentown H.S. FFA Sponsors Breakfast

The CASE program is the first standardized comprehensive national animal and plant science curriculum.  It provides students with a balance of science, mathematics and English situated in agriculture subject matter using the theory ofinquiry-based activities, projects and problems.  The CASE model is a four dimensional approach to agricultural education including curriculum development, professional development, assessment and certification, all working to ensure teachers are properly equipped and trained and student learning is clearly accountable.

To be able to teach the CASE curriculum, teachers must undergo two weeks of training.  Allentown second year agriculture teacher Denise Emmons taught the CASE Animal Science course for the first time to 30 students in the first semesteof this school year and now has 15 students in the second semester.

"CASE has been such a help to me because it includes amazing ideas to teach the concepts of how to raise an animal that can be applied throughout a child's lifetime, not just to farm animals, but to any animal," said Emmons.  "The students like the hands-on activities and that they are more self-directed.  CASE is not only about training students, but helping them to understand the 'why' of these concepts."

Emmons said more CASE courses will soon be available to her students.  Rutgers University will host a CASE plant science training course for teachers in the region this summer.

Allentown High School was chosen as a CASE field test site because of the Upper Freehold Regional School District's commitment to its agricultural education program.  The high school offers a wide variety of agriculture and ag-science courses, including Veterinary, Equine, and Plant Science, Nursery/Landscape, Floral Design, Ag Mechanics, Environmental Science and BioEthics.

The school's facilities include: wireless laptop lab; two classrooms, 3 greenhouses, agriculture mechanics shop; welding shop, lathe house and other outdoor laboratories

Allentown FFA holds its sponsors breakfast each year to thank the many people who help them throughout the year, including community members, school administrators, and government officials.

FFA Week celebrates the FFA and Agriculture, Food and Natural Resources Education for providing a strong foundation of leadership and career skills for New Jersey youth and a strong future for the science, business and technology of agriculture.

There are 1,840 members in 34 FFA chapters in New Jersey and 506,199 members in 7,429 chapters across the nation.

FFA is a national youth organization that uses agricultural science education to develop students' potential and help them discover their talent.