JERSEY CITY SCHOOL CHILDREN BENEFITING FROM SCHOOL NUTRITION PROGRAMS
Federal, State Officials Visit Schools During National School Breakfast Week
For Immediate Release: March 11, 2010
Contact: Lynne Richmond
(609) 633-2954

(TRENTON) – New Jersey Secretary of Agriculture Douglas H. Fisher and officials from the United States Department of Agriculture Food and Nutrition Service Mid-Atlantic Region today celebrated National School Breakfast Week and the Jersey City School District's commitment to good nutrition by visiting two elementary schools participating in a variety of federal/state programs.

"School Breakfast Week reminds us that eating breakfast gives students the right start to help them excel in school," said Secretary Fisher.  "We are proud to partner with USDA on the delivery of nutrition programs that help students grow up healthier and give them skills to lead more active lifestyles."

National School Breakfast Week is March 8 – 12 this year.  It was launched in 1989 to raise awareness of the availability of the School Breakfast Program to all children.  The program, established in 1966, provides nutritionally balanced breakfasts in public and nonprofit private schools and residential childcare institutions.  Those breakfasts are required to provide one-fourth of the recommended dietary allowances for protein, vitamin A, vitamin C, iron, calcium and calories.

The USDA administers the School Breakfast Program at the federal level, providing cash subsidies for each meal served.  New Jersey provides additional state funding for every breakfast served.  The New Jersey Department of Agriculture operates the program in the state. 

Fisher and Barbara Martin, Special Nutrition Programs Deputy Director, USDA, Food and Nutrition Service's Mid Atlantic Region, visited Martin Luther King Jr. School #11, where about 183 students participate in the breakfast program on a daily basis, served in the cafeteria before school.  About 4,000 breakfasts are served every day throughout the district.  Statewide, more than 156,000 breakfasts are served daily. 

"Participation in breakfast is far lower than in lunch – only about 11 million on an average school day, compared to 31 million for lunch," said Martin.  "The School Breakfast Program provides school children of all economic backgrounds with a well-balanced, healthy meal at the beginning of the school day. I congratulate Jersey City schools for making sure that their students are ready to learn by starting the day with a healthy breakfast."

Martin Luther King Jr.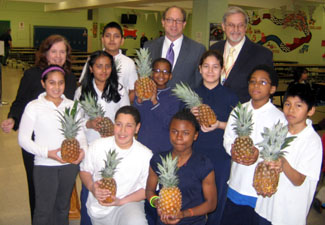 School also participates in the Fresh Fruit and Vegetable Program, funded by USDA FNS and administered by the New Jersey Department of Agriculture.  Each week since the beginning of the school year, the students have sampled a new fruit and vegetable in their classrooms on Thursdays and Fridays. 

Barbara Martin, Secretary Fisher and School #11 Principal Chester Kominski showcase this week's sample fruit in the Fresh Fruit and Vegetable Program

District Food Service Director Susan Solleder said they have placed a priority on providing the students with New Jersey produce.  This week's vegetable is hot house-grown New Jersey lettuce, which the children will taste on Friday.  Other New Jersey produce the students have tried include:  dandelion greens, several varieties of apples, Swiss chard, escarole and potatoes.

Students in 59 schools around New Jersey are participating in the Fresh Fruit and Vegetable Program, which provides fresh produce to students free of charge, designed to increase their fruit and vegetable consumption, ultimately leading to lifelong dietary habits.

From school #11, Fisher and Martin traveled to Jotham W. Wakeman School #6, the recipient of a federal School Food Service Equipment Assistance Grant.  With that grant, the school purchased a refrigerator and a cold food bar. Part of the American Recovery and Reinvestment Act of 2009 signed by President Obama in February 2009, the food service equipment grants were designed to improve lunch program infrastructure and provide economic stimulus.  In all, the New Jersey Department of Agriculture distributed almost $1.9 million dollars in grants to 105 schools statewide.

Jersey City Schools Superintendent Dr. Charles T. Epps Jr. said nutrition education plays a large role in the Jersey City Public Schools.  There is a nutrition committee composed of representatives from local health organizations, such as the Heart Association, Rutgers University and school nurses, principals, teachers, food service personnel, supervisors and the Director of Food Services.  The Board of Education instituted a wellness policy on physical activity and nutrition, which includes the implementation of school health councils and nutritional quality of foods and beverages sold and served on campus.  The Jersey City Public Schools, unlike other school districts, has never sold soda to students, as well as other foods of minimal nutritional value.

"The Jersey City Public  Schools, being a district in need , knows that for many of our  students, breakfast is their most important meal of the day and we are able to follow through with the help of the federal nutrition programs that have been put in place," said Epps.  "Approximately, 75 percent of our students in Kindergarten through 8th grade utilize the meal program at the schools.  This is not only important for the district and the students, but also, to the parents, as well."



To help promote the School Breakfast Program and encourage participation by both schools and students, the New Jersey Department of Agriculture developed a website, "Food For Thought – New Jersey School Breakfast Program," at

 www.njdafoodforthought.com.  The site has information and resources for parents, teachers, and children to help them work together to ensure students eat a healthy breakfast each morning.

For more information about the Department of Agriculture's school breakfast program, visit www.nj.gov/agriculture/divisions/fn/childadult/school_breakfast.html.

To learn about the state's Fresh Fruit and Vegetable Program, visit: www.nj.gov/agriculture/divisions/fn/childadult/fruitandvegetable.html.