Home
>
News
>
Press Releases
>
2010
>
NY JETS, NJ AGRICULTURE DEPARTMENT HONOR TWO BERGEN COUNTY SCHOOLS FOR EXCELLING IN NUTRITION
NY JETS, NJ AGRICULTURE DEPARTMENT HONOR TWO BERGEN COUNTY SCHOOLS FOR EXCELLING IN NUTRITION
Schools Win NJDA, Jets, Dairy Council Eat Right, Move More Contest
For Immediate Release: April 21, 2010
Contact: Lynne Richmond
(609) 633-2954

(TRENTON) – Students at Brookside School in Allendale and Elmwood Park Memorial High School in Elmwood Park today found out the importance of good nutrition and exercise if you are a professional football player, like New York Jets defensive end Mike Devito.

DeVito and representatives of the New Jersey Department of Agriculture visited the two schools to celebrate their outstanding nutrition programs.  Brookside School and Elmwood Park Memorial High School were two of six winners in this year's Eat Right, Move More Program.

"Not only do these two schools place a high importance on eating the right things, like whole grains, fresh fruits and vegetables and low-fat dairy products, but they make local Jersey Fresh produce available for their students," said New Jersey Secretary of Agriculture Douglas H. Fisher.  "The young people heard how a New York Jets player eats and exercises so that he is able to do his job on the field and how those same principles will benefit them in their lives."

The Eat Right, Move More Program, a partnership between the Jets, the Department of Agriculture and the American Dairy Association & Dairy Council's Fuel Up to Play 60 campaign, encourages New Jersey school children to take advantage of healthy foods in their school cafeterias and become more active.  This year, schools had to show strong support and use of locally-grown products in their school meal menus, as well as demonstrate efforts to improve nutrition and physical activity among their students.

This is the fourth year of the Eat Right, Move More Program.  The campaign features posters with campaign spokesman Jets' offensive tackle D'Brickashaw Ferguson that tell students, "Eating healthy meals helps me play my best.  Your school cafeteria has a variety of nutritious foods to keep you going all day long.  So let's get up and Eat Right and Move More!"

"It is great to see so many schools taking part in this program," said Devito. "These menus are creative, different and I think will encourage students all over the state to eat better, exercise and lead healthier lives."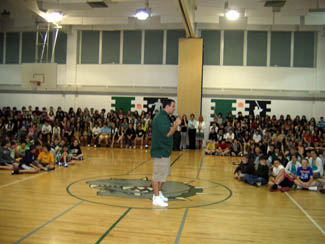 The Jets' Mike Devito talking to Brookside School students about eating right

Both Allendale and Elmwood Park school districts contract with Pomptonian Food Service to provide school meals.  The company creates menus that substitutes whole grains for white flour, offers baked items instead of fried and healthy snacks and highlights Jersey Fresh fruits and vegetables.  The company also offers special events designed to entice children to try new things.

At Brookside School, the emphasis on nutrition is subtly embedded in their programs and principal Bruce Winkelstein said his staff tries to ensure that all 585 fourth through eighth grade students are eating right.

"If we ever have concerns about a child's nutritional decisions in school, our nurse contacts the parents and we develop a plan," said Winkelstein.  "This has been very successful in staving off eating disorder issues and poor eating choices."

The Brookside School also emphasizes exercise through the school's participation in the Presidential Fitness program, a weekly one mile run, and a challenge for students to beat principal Winkelstein's mile time, which is currently six minutes and 33 seconds.  They also do special events, such as Hoops for Heart and Walk to School Days.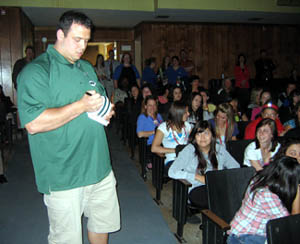 Devito autographs a prize during the Eat Right, Move More Program at Elmwood Park Memorial High School

On the menu at Elmwood Park Memorial High School today was a choice of baked chicken served with vegetable brown rice, a garden burger, tuna salad wrap, chef's salad, and various other salads using Jersey Fresh produce.

"We have excelled in our nutrition programs due to the consistent group effort by the food service, administration, teachers, students and parents," said school principal Richard Tomko.  "Winning the Eat Right, Move More contest can only help keep the momentum going.  I believe students look up to professional athletes and media icons and were excited to learn from Mike DeVito how eating healthy can help foster a healthy adult lifestyle."

In addition to Brookside School and Elmwood Park Memorial High School, four other schools from around the state were selected as winners in the Eat Right, Move More program: Summit High School in Summit; Cold Springs School in Gloucester City; Old Turnpike School in Tewksbury; and the grand prize winner, Harrison High School in Harrison. Harrison High School was visited by Ferguson in November, representatives from the school were honored during the December 20 Jets game at Giants Stadium, and the school received a $5,000 grant for cafeteria upgrades made possible by the Jets and the American Dairy Association & Dairy Council's Fuel Up to Play 60 campaign.

The other winning schools will receive similar visits by Jets players over the next two months.

Programs funded by the New York Jets Foundation touch the lives of countless young men and women in the tri-state area. Over the past ten years, the Jets and their charitable foundation have donated or raised more than $10 million to promote youth health, fitness and education, particularly in disadvantaged communities. From fighting childhood obesity through the Generation Jets: Be Lean & Green initiative to launching a football team in an urban high school, urging students to eat right and move more, and supporting the efforts of the Alliance for Lupus Research, the New York Jets invest in programs that make a difference in the lives of others. In addition to the Jets Foundation, which supports their own extensive youth initiatives, the Jets partner with numerous established charitable organizations and participate in causes sponsored by the NFL.

The Department of Agriculture's school nutrition policy is the most comprehensive in the nation and covers pre-kindergarten through 12th grade students.  The policy limits fat and sugar content in foods offered in a la carte lines, snack bars and vending machines, school stores and as part of on-campus fund-raisers.

More than 673,000 students in both public and private schools participate in the National School Lunch Program, administered by the Department of Agriculture.

For more information about the Department's school nutrition programs, visit www.nj.gov/agriculture/divisions/fn/childadult/school.html.