Home
>
News
>
Press Releases
>
2010
>
NJ AGRICULTURE DEPARTMENT, TRENTON MARRIOTT BRING JERSEY FRESH MENU ITEMS, COOKING DEMOS TO CAPITAL CITY
NJ AGRICULTURE DEPARTMENT, TRENTON MARRIOTT BRING JERSEY FRESH MENU ITEMS, COOKING DEMOS TO CAPITAL CITY
Trenton's Only Hotel Makes Commitment to Support Jersey Fresh

For Immediate Release: April 26, 2010
Contact: Lynne Richmond
(609) 633-2954

(TRENTON) – The Trenton Marriott Downtown has made a commitment with the New Jersey Department of Agriculture to offer menu items at its Archives Restaurant featuring Jersey Fresh produce starting on May 3.

New Jersey Secretary of Agriculture Douglas H. Fisher and Jeffrey M. Zeiger, General Manager of the Marriott today announced a partnership for the restaurant to purchase produce from local farmers, highlight a different Jersey Fresh item on its menu once a month, and hold a monthly after-work cooking demonstration of the menu item.

"We welcome the Marriott's support for New Jersey farmers and hope that other hotels and restaurants will incorporate Jersey Fresh into their menus, as well," said Secretary Fisher.  "In addition, we urge people to ask for Jersey Fresh when they eat at these establishments or when they shop in their local supermarkets."

The dish for the month of May will feature Jersey Fresh a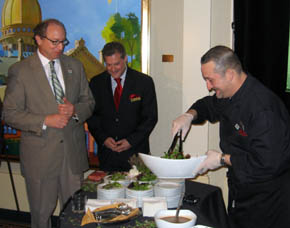 sparagus purchased from J. Ambrogi Foods.  The item will appear on the lunch menu with the Jersey Fresh logo next to it. 

On May 18th, Executive Chef Mark Ellis will hold a cooking demonstration from 5 to 6 p.m. on how to prepare the asparagus dish at home.  Those who attend will be able to taste the dish and will receive a copy of the recipe.

Secretary Fisher and Jeff Zeiger watch as Chef Mark Ellis dishes up some Jersey Fresh Asparagus Salad with Citrus Vinaigrette

"We want to expose the people who work in downtown Trenton, visitors to the city or those who live in the area to Jersey Fresh products," said Zeiger.  "Being the only hotel located in the state capitol, we have a unique opportunity to promote New Jersey agriculture products among people who have the ability to spread the word about Jersey Fresh to all parts of the state."

Endive will be featured on the Archives menu in June; blueberries in July; tomatoes in August; peaches in September; and butternut squash in October.  Zeiger said he is hoping the program will be a great success so that it can be expanded year round, using Jersey Seafood in the off-season.

The cooking demonstrations will be held the third Tuesday of each month through October.  All ingredients in the recipes will be readily available at local community farmers markets.

Click here for information on the Marriott's Jersey Fresh program.

"This partnership with the Trenton Marriott will reap many benefits – for the restaurant that is utilizing the nearby agricultural resources, the farmers who will have another market for their products and the patrons who will be getting a dish using the freshest, highest quality produce," said Secretary Fisher.

Jersey Fresh is the 26-year-old nationally-known quality grading and promotional program for produce and other agricultural products grown in New Jersey.

New Jersey's food and agriculture industry, which includes restaurants, produces around $100 billion a year in revenues, making it the third largest economic sector in the state. The state is among the top producers in the nation for blueberries, cranberries, peaches, and bell peppers.

The Trenton Marriott Downtown is owned by Lafayette Yard Community Development Corporation, a private non-profit corporation whose directors include City of Trenton officials and community leaders. Waterford Hotel Group, a national hotel management company with headquarters in Connecticut, professionally operates the 197-room hotel. For more information, visit www.trentonmarriott.com.