NJ AGRICULTURE SECRETARY HELPS CONNECT RESTAURANTS AND FARMERS
Jersey Fresh Produce Within Reach of Chefs Throughout the State
For Immediate Release: May 11, 2010
Contact: Lynne Richmond
(609) 633-2954

(TRENTON) – New Jersey Secretary of Agriculture Douglas H. Fisher announced today that with more than 120 community farmers markets beginning to open for the season around the state, Jersey Fresh produce is readily available for all restaurants that are interested in serving our locally grown fruits and vegetables.

Fisher today visited the Trenton Farmers Market in Lawrence Township with Trenton Marriott Downtown General Manager Jeffrey M. Zeiger and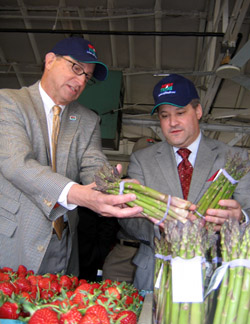 Executive Chef Mark Ellis and introduced them to the farmers who sell what they grow at the year-round market.

"Residents of New Jersey know that when they want to incorporate Jersey Fresh produce into their meals, they can easily find locally grown fruits and vegetables at a community farmers market, roadside market or supermarket," said Secretary Fisher.  "We are asking restaurant owners and chefs to search out these items and highlight Jersey Fresh regularly on their menus because it has been demonstrated that the public highly prizes local produce."

Secretary Fisher and Jeff Zeiger of the Trenton Marriott inspect asparagus at Russo's Ochard Lane Farm stand at the Trenton Farmers Market

The Trenton Marriott Downtown recently made the commitment to serve a dish made with a Jersey Fresh fruit or vegetable every month through October.

"We are excited to be able to expose Jersey-grown products to our customers who come from all over the state and country," said Zeiger.  "We have this great farmer's market right here in Trenton, which makes it convenient for people to buy locally and help support the local economy."

The Trenton Marriott will promote their support for the Jersey Fresh brand through signage in their Archives Restaurant and logos on the menu, and hold monthly cooking demonstrations of the dish.  The first demonstration will be held May 18th.  For more information, visit http://promo.waterfordecommerce.com/ttnmc/jerseyfresh.

The dish for the month of May is Jersey Asparagus Salad with Citrus-Balsamic Vinaigrette.  Fisher and Ellis found several farmers at Trenton Farmers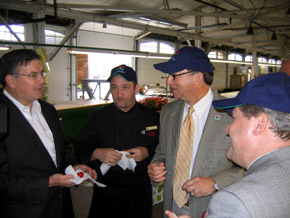 Market with fresh asparagus and greens for the dish.

Unlike most community farmers markets, which are seasonal and temporary, the Trenton Farmers Market is in a permanent building and is open six days a week all year long.  The market has nine farmers who sell during the growing season.

Mercer County Executive Brian Hughes, Chef Mark Ellis, Fisher and Zeiger sample Jersey Fresh strawberries

"Our market provides the freshest possible fruits and vegetables from local farms, picked only hours before they are sold," said Jack Ball, Trenton Farmers Market manager.  "There are many local restaurants that purchase produce from our market.  They know there's a huge difference in freshness and taste when they serve local fruits and vegetables in their salads and desserts."

To find other community farmers markets, visit www.state.nj.us/jerseyfresh/searches/urban.htm.

Fisher highlighted that Jersey Fresh season is well underway with a wide variety of produce available currently, such as asparagus, herbs, greens, radishes and strawberries.  The Department provides a weekly report on the produce that is in season or will soon be in season at www.state.nj.us/jerseyfresh/JFreport.pdf.