Home
>
News
>
Press Releases
>
2010
>
NY JETS TIGHT END, NJ AGRICULTURE DEPARTMENT VISIT CAMDEN COUNTY SCHOOL EXCELLING IN NUTRITION
NY JETS TIGHT END, NJ AGRICULTURE DEPARTMENT VISIT CAMDEN COUNTY SCHOOL EXCELLING IN NUTRITION
School Wins NJDA, Jets, Dairy Council Eat Right, Move More Contest
For Immediate Release: May 12, 2010
Contact: Lynne Richmond
(609) 633-2954

(GLOUCESTER CITY) – There is a focus on good nutrition and exercise on a daily basis at Cold Springs School in Gloucester City.  For this commitment to educating students about healthy lifestyles, the school was named one of the winners in the New York Jets and New Jersey Department of Agriculture's Eat Right, Move More program this year, earning them a visit by Jets' Tight End Ben Hartsock.

Hartsock and representatives of the Department of Agriculture participated in an assembly today at the school, calling attention to the importance of eating the right things and increasing activity whether you're a professional football player or a student. 

"Cold Springs School has made great strides in providing students with opportunities to eat fresh fruits and vegetables, some of which is locally grown Jersey Fresh," said New Jersey Secretary of Agriculture Douglas H. Fisher.  "After hearing how a New York Jets player eats and exercises in order to be at the top of his game, we hope the students are even more inspired to choose foods wisely and exercise regularly."

The Eat Right, Move More Program, a partnership between the Jets, the Department of Agriculture and the American Dairy Association & Dairy Council's Fuel Up to Play 60 campaign, encourages New Jersey school children to take advantage of healthy foods in their school cafeterias and become more active.  This year, schools had to show strong support and use of locally-grown products in their school meal menus, as well as demonstrate efforts to improve nutrition and physical activity among their students.

This is the fourth year of the Eat Right, Move More Program.  The campaign features posters with campaign spokesman Jets' offensive tackle D'Brickashaw Ferguson that tell students, "Eating healthy meals helps me play my best.  Your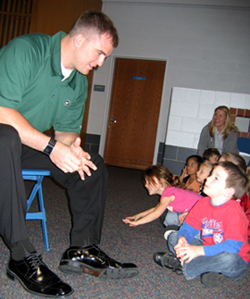 school cafeteria has a variety of nutritious foods to keep you going all day long.  So let's get up and Eat Right and Move More!"

Ben Hartsock was signed by the Jets last season.  He is 29 years old, was born in Chillicothe, Ohio and went to Ohio State University.

"It is great to be here today and see what these students have already accomplished," said Hartstock. "Cold Springs School is an excellent example of how a good eating and exercise can really change lives."

Ben Hartsock talks to students at Cold Springs School about eating right and exercising.

Cold Springs School, with grades Pre-kindergarten to third, holds a health fair in May and runs trips to local restaurants, supermarkets, and farms.  There is an after-school walking club and gardening club.  And, on May 18th, the school will have musical assemblies that teach the value of exercise and good nutrition, and the fundamentals of anatomy, fitness and personal hygiene.

"The school's food service uses fresh fruits and vegetables to feed the children an extra snack three times a week from locally grown produce vendors, plus we have a fruit or vegetable of the month that we focus on in our menus," said school principal Martin O'Connor.  "Even though our students are young, they are sports-oriented so hearing a pro sports figure talk about nutrition, they listened to what he had to say."

In addition to Cold Springs, five other schools from around the state were selected as winners in the Eat Right, Move More program: Brookside School in Allendale; Elmwood Park Memorial High School in Elmwood Park; Summit High School in Summit; and, Old Turnpike School in Tewksbury; and

the grand prize winner, Harrison High School in Harrison. Harrison High School was visited by D'Brickashaw Ferguson in November, representatives from the school were honored during the December 20 Jets game at the Meadowlands, and the school received a $5,000 grant for cafeteria upgrades

made possible by the Jets and the American Dairy Association & Dairy Council's Fuel Up to Play 60 campaign.

Old Turnpike School in Tewksbury is the only school not to have an assembly with a Jets player yet -- Linebacker Kenwin Cummings will visit the school on May 19.

Programs funded by the New York Jets Foundation touch the lives of countless young men and women in the tri-state area. Over the past ten years, the Jets and their charitable foundation have donated or raised more than $10 million to promote youth health, fitness and education, particularly in disadvantaged communities. From fighting childhood obesity through the Generation Jets: Be Lean & Green initiative to launching a football team in an urban high school, urging students to eat right and move more, and supporting the efforts of the Alliance for Lupus Research, the New York Jets invest in programs that make a difference in the lives of others. In addition to the Jets Foundation, which supports their own extensive youth initiatives, the Jets partner with numerous established charitable organizations and participate in causes sponsored by the NFL.

The Department of Agriculture's school nutrition policy is the most comprehensive in the nation and covers pre-kindergarten through 12th grade students.  The policy limits fat and sugar content in foods offered in a la carte lines, snack bars and vending machines, school stores and as part of on-campus fund-raisers.

More than 673,000 students in both public and private schools participate in the National School Lunch Program, administered by the Department of Agriculture.

For more information about the Department's school nutrition programs, visit www.nj.gov/agriculture/divisions/fn/childadult/school.html.