TEAM OF OCEAN COUNTY STUDENTS WINS STATEWIDE NATURAL RESOURCES, SCIENCE COMPETITION
For Immediate Release: May 17, 2010
Contact: Lynne Richmond
(609) 633-2954

(TRENTON) – A team of five students from the Marine Academy of Technology and Environmental Sciences in Manahawkin will represent New Jersey in the 2010 Canon Envirothon at California State University in Fresno in August.

The students were the overall winners of the New Jersey Envirothon on May 8, held at Camp Sacajawea in Newfield, Gloucester County, qualifying them to compete in the national competition.  The team competed against 46 other high school teams on knowledge of natural resources-related topics, including soils, forestry, aquatics, wildlife ecology and a current environmental issue.  This year's Envirothon theme was "Protection of Groundwater Through Urban, Agriculture, and Environmental Planning."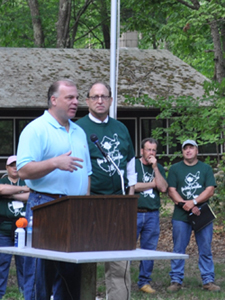 New Jersey Secretary of Agriculture Douglas H. Fisher and State Senate President Stephen M. Sweeney participated in opening ceremonies for the event.

"The skills students learn by preparing for and competing in the Envirothon – teamwork and problem-solving -- are valuable no matter which career path they choose in the future," said Secretary Fisher.  "However, agriculture and natural resources-related industries are growth areas, so we urge these very bright, motivated students to consider pursuing careers in these fields."


Senate President Sweeney and Secretary Fisher kick-off 2010 Envirothon

The winning team includes:  Sara Goheen of Manahawkin, Alex Hascha of Brick, Michelle Predi of Barnegat Light, Bridget Blood of Barnegat, and Ryan Sullivan of Lacey.  They each received $1,000 scholarships from the New Jersey Association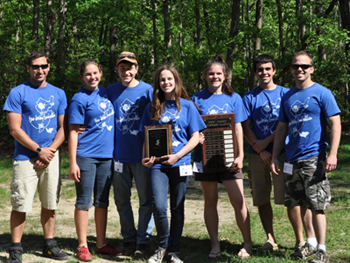 of Conservation Districts, $2,000 scholarships from Richard Stockton State College and $1,000 scholarships from Applied and Health Sciences at Kean University. 



Advisor Dave Werner; Sara Goheen; Alex Hascha; Michelle Predi; Bridget Blood; Ryan Sullivan; and Advisor Adam Sprague

A second team from Marine Academy of Technology and Environmental Sciences of the Ocean County Vocational Technical School District earned second place in the Envirothon, and a team from Marine Academy of Science and Technology in Monmouth County came in third.

The Envirothon is sponsored by the New Jersey Department of Agriculture, State Soil Conservation Committee; United States Department of Agriculture, Natural Resources Conservation Service; New Jersey Department of Environmental Protection; and, Rutgers Cooperative Extension.

There are 15 Soil Conservation Districts in New Jersey, following county boundaries, which implement the New Jersey Soil and Sediment Control Act, which governs certain aspects of new development.  These semi-autonomous bodies are locally governed and play a strong role in the protection of New Jersey's natural resources.