Home
>
News
>
Press Releases
>
2010
>
NJ AGRICULTURE SECRETARY KICKS OFF MONTH OF THE HORSE, HIGHLIGHTS EQUINE INDUSTRY'S IMPORTANCE TO STATE
NJ AGRICULTURE SECRETARY KICKS OFF MONTH OF THE HORSE, HIGHLIGHTS EQUINE INDUSTRY'S IMPORTANCE TO STATE
State Animal Has Far-Reaching Impact on State's Economy and Residents

For Immediate Release: June 1, 2010
Contact: Lynne Richmond
(609) 633-2954 

(EGG HARBOR TOWNSHIP) – New Jersey Secretary of Agriculture Douglas H. Fisher today officially kicked off the Month of the Horse in New Jersey, reminding state residents of the State Animal's impact on New Jersey's economy and their quality of life.

Speaking at a therapeutic horseback riding facility, Atlantic Riding Center for Health in Egg Harbor Township today , Secretary Fisher said the state's equine industry is valued at $4 billion and generates $1.1 billion annually in positive impact to the state's economy.

"From pleasure horses to racehorses, New Jersey residents have a better life because of horses, either from the reduced taxes due to the industry's revenue, enjoyment from riding or competing, spending an afternoon watching races or just watching these majestic animals in beautiful pastures," said Secretary Fisher.  "We must do all we can to support the industry and ensure our state remains one of the top equine states in the nation."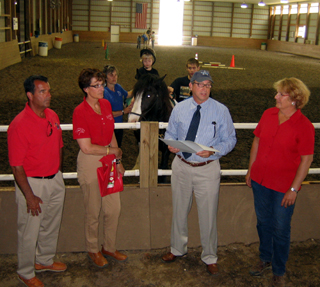 A recent study by Rutgers Equine Science Center showed there are 7,200 equine facilities on 176,000 acres and 42,500 equine animals in New Jersey.

Karyn Malinowski, Director of the Equine Science Center, said she is pleased to partner with the Department of Agriculture in celebrating the Month of the Horse. 

Assemblyman John Amodeo, Karyn Malinowski, Secretary Fisher and Sue Adams as Secretary Fisher presents ARCH with Governor Christie's Proclamation designating June as the Month of the Horse

"New Jersey's equine industry, especially the horse racing element, has a tremendous socio-economic impact on the state," said Malinowski.  "The horse industry generates dollars of revenue for the state while simultaneously maintaining working farmland that contributes to the quality of life for all New Jersey residents."

Rutgers Equine Science Center's mission is to promote better horse care through research and education to advance the well-being and performance of horses and the equine industry.  The center is recognized locally and globally as a primary resource for everything equine through education, training advocates, finding solutions through science-based inquiry and exploring the relationship between horses and humans.

At Atlantic Riding Center for Health (ARCH), all elements of the state's equine industry are pulled together.  ARCH Executive Director Sue Adams said many therapeutic horseback riding programs use horses that have had former careers in the industry. 

"Some are retired show horses, others retired race horses, some were cattle horses or roping horses," said Adams.  "When accepted following a rigid evaluation, they begin a new career where they continue to give to humans with care, confidence and kindness."

In 2009 ARCH provided service for more than 425 individuals with disabilities, helping them to improve posture, balance, focus, concentration,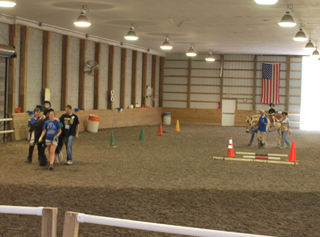 mobility, speech, self confidence and self esteem.  Riders from 18 months to senior citizens have benefit physically, mentally and psychologically through the use of the horse.  ARCH recently opened its doors to children and adults without disabilities to help support its mission through riding lessons and boarding.

Students participate in therapeutic riding session at ARCH.

The horse was named the state animal in 1977, when then-Governor Brendan Byrne signed the law while at the Sussex County Fair and Horse Show.

For more information on the Department's equine programs, visit www.jerseyequine.nj.gov.  For information on the Sire Stakes Program, visit www.jerseyequine.nj.gov/sirestakes.htm.  

Click here to go to the Calendar of Events for the Month of the Horse.