Home
>
News
>
Press Releases
>
2010
>
NJ DEPARTMENT OF AGRICULTURE, SOMERSET MEDICAL CENTER ANNOUNCE UNIQUE PARTNERSHIP TO PROMOTE JERSEY FRESH
NJ DEPARTMENT OF AGRICULTURE, SOMERSET MEDICAL CENTER ANNOUNCE UNIQUE PARTNERSHIP TO PROMOTE JERSEY FRESH
SMC Becomes first "Jersey Fresh" Hospital

For Immediate Release: June 3, 2010
Contact: Lynne Richmond
(609) 633-2954 – NJ Department of Agriculture 
Kathleen Roberts
(908) 595-2319 – Somerset Medical Center

(SOMERVILLE) – Patients, employees and visitors to Somerset Medical Center in Somerville will have regular access to Jersey Fresh fruits and vegetables, under a plan unveiled today by New Jersey Assistant Secretary of Agriculture Alfred Murray and Somerset Medical Center Senior Vice President of Operations Glenn McCreesh.

Somerset Medical Center is the first hospital in New Jersey, and possibly the nation, to team up with a state agriculture department's farm products branding program.

"Somerset Medical Center serves more than a million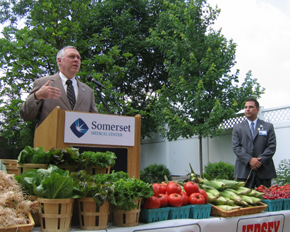 meals a year, so many people will benefit from eating these fresh, safe, local products," said Assistant Secretary Murray. "We thank the medical center for pioneering this effort and we are sure that other hospitals will follow Somerset Medical Center's lead and see the value of buying Jersey Fresh produce for use in their food service operations."

Assistant Secretary Murray talks about the benefits of health care facilities serving Jersey Fresh produce to patients, workers and visitors while Glenn McCreesh of Somerset Medical Center looks on.

In a comprehensive program that addresses all facets of the hospital's food-service operations, Somerset Medical Center is expanding its incorporation of Jersey Fresh, as well as Jersey Seafood and "Made with Jersey Fresh" items into patient meals, cafeteria and coffee shop offerings, and catered meals for meetings held on its grounds.

"We are proud to be the first hospital in New Jersey to partner with the Department of Agriculture on the Jersey Fresh brand," said McCreesh. "Participating in the Jersey Fresh program will allow us to encourage our employees, patients and community to make healthier choices, while also promoting one of our state's greatest resources."

In addition, on June 28th the hospital will begin holding a weekly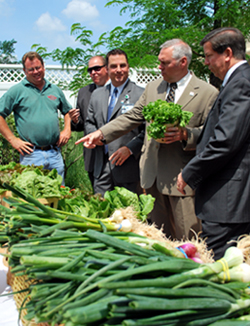 community farmers market on its grounds and Executive Chef Peter Pascale will highlight Jersey Fresh items in monthly healthy cooking demonstrations for patients of the Steeplechase Cancer Center. The demonstrations are often shown on local cable television, as well as on the hospital's website.

Somerset Medical Center plans to display Jersey Fresh signage throughout the hospital to highlight its usage of the state's agricultural products. Patients, people visiting loved ones or those working in the hospital will see the Jersey Fresh logo , in the cafeteria, the coffee shop, and on the grounds on farmers market days.

Farmer, Peter Melick, shows the type of produce he will sell at the weekly farmers market at Somerset Medical Center to Paul Hlubik of USDA, Glenn McCreesh, Al Murray and Medical Center President Kenneth Bateman.

Jersey Fresh is the 26-year-old nationally-known quality grading and promotional program for produce and other agricultural products grown in New Jersey.

New Jersey's food and agriculture industry, which includes restaurants, produces around $100 billion a year in revenues, making it the third largest economic sector in the state. The state is among the top producers in the nation for blueberries, cranberries, peaches, and bell peppers.

Somerset Medical Center provides a variety of comprehensive emergency, medical/surgical and rehabilitative services to Central New Jersey residents. The medical center offers a broad range of community programs, ranging from health fairs and screenings to seminars and support groups.

To better serve its increasing number of patients, Somerset Medical Center offers a new emergency department, new inpatient oncology and surgical pavilions and expanded surgical suites. The Steeplechase Cancer Center at Somerset Medical Center brings together all outpatient cancer services in one location in Somerset County for the first time. The medical center also has locations in Hillsborough with its Sleep for Life program and a Sports Performance and Rehabilitation Center in Bridgewater.

For more information about Somerset Medical Center, visit  www.somersetmedicalcenter.com.

To learn more about the Jersey Fresh program, visit www.jerseyfresh.nj.gov or www.nj.gov/agriculture/divisions/md/prog/jerseyfresh.html.