COMMUNITY FARMERS MARKETS OPENING AROUND NJ
Jersey Fresh Produce Available and Abundant
For Immediate Release: June 16, 2010
Contact: Lynne Richmond 
(609) 633-2954

(MAPLEWOOD) – New Jersey Secretary of Agriculture Douglas H. Fisher officially heralded in the Jersey Fresh produce season on Monday, June 14, the opening day of the Maplewood Farmers Market.

"Within a couple of weeks, all of the state's community farmers markets will be open throughout the state, offering consumers a wide variety of their favorite Jersey Fresh vegetables and fruits," said Secretary Fisher.  "These markets provide access to produce picked just hours before, and opportunities to meet the farmers who grow their food, as well as help maintain working farmland in the Garden State."

During his visit to the Maplewood Farmers Market, Secretary Fisher visited with farmers Kurt Alstede of Alstede Farms and Dale Davis of Stony Hill Gardens, both of Chester.  The market is located in the municipal parking lot at the corner of Springfield Avenue and Indiana Street in Maplewood.  The market is in its 16th season and operates on Mondays from 2 to 7 p.m.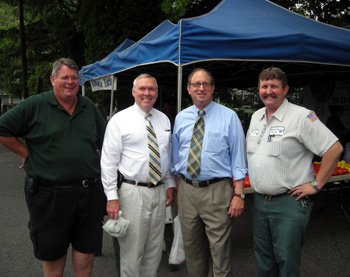 Dale Davis, Assistant Secretary Al Murray, Secretary Fisher and Kurt Alstede

The farmers are part of the Women, Infants, and Children (WIC) and Senior Farmers Market Nutrition program. The program provides vouchers to eligible participants to purchase locally grown fresh fruits, vegetables and herbs from New Jersey farmers.  For more information on the Farmers Market Nutrition Program, visit www.nj.gov/agriculture/divisions/md/prog/wic.html.

The number of community farmers markets in the state has been on the rise over the past few years. More than 80 new markets have opened in the past eight years, with nine opening for the first time this season in Denville, Kean University/Union Township, Lower Township, Nutley, Old Bridge, Ramsey, Somerset Medical Center in Somerville, Hawthorne and Haledon.  In total, there are 137 community farmers markets in the state this year.

For complete information on locations, days and hours of community farmers markets in New Jersey, visit www.state.nj.us/jerseyfresh/searches/urban.htm.