SERVE JERSEY FRESH TOMATOES, SWEET CORN THIS 4TH OF JULY WEEKEND
For Immediate Release: July 1, 2010
Contact: Lynne Richmond
(609) 633-2954

(TRENTON) – New Jersey Secretary of Agriculture Douglas H. Fisher today announced that Jersey Fresh sweet corn and tomatoes are available this holiday weekend.

New Jersey recorded its warmest spring ever this year.  Those warmer than normal temperatures brought the sweet corn and tomato crops in about a week or two early.

"You know when you bite into an ear of Jersey sweet corn or slice a red, juicy Jersey tomato that summer has arrived in the Garden State," said Fisher.  "Look for Jersey Fresh sweet corn and tomatoes in your local supermarket, roadside stands and community farmers markets."

For the location of farm markets, pick-your-own farms, or other information about Jersey Fresh, visit the Jersey Fresh website at www.jerseyfresh.nj.gov.   For farm visit information, go to www.visitnjfarms.org.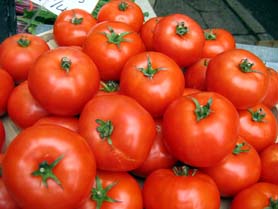 New Jersey ranked eighth in the nation last year in tomato production, with 63.8 million pounds produce on 2,900 acres, with a value of $33.9 million.  That's up from 62.4 million pounds and a value of $26.6 million in 2008.

New Jersey also ranks nationally in sweet corn production.  It was 10th in the nation last year, with 78.1 million pounds produced on 7,100 acres, with a value of $22.8 million.  In 2008, New Jersey farmers produced 53.3 million pounds, valued at $15.5 million.

Tomatoes are ready to eat when they are slightly soft. An extremely firm tomato is not yet fully ripe, even though it may be completely red. Never refrigerate Jersey tomatoes. This destroys the natural, vine-ripened taste. Avoid placing them on windowsills, which are usually too hot. Store tomatoes at room temperature in a cool dark place. A sliced tomato loses its vine-ripened flavor quickly so choose tomatoes that are small enough to consume in one meal.

When choosing corn, look for ears with bright green, snugly fitting husks, and golden brown silk. Inside, the kernels should come all the way to the ear's tip, with tightly spaced rows, and appear plump and milky. If pricked, a kernel should spurt milky white juice. Choose ears with medium-sized kernels. Very small kernels are immature, and large kernels could have a starchy taste.

For best flavor, eat sweet corn as soon as possible. Leaving husks on when storing corn helps preserves the flavor. At room temperature, the glucose in corn will convert to starch in as little as 24 hours, so refrigeration is critical for maintaining freshness. Corn absorbs odors from foods such as green onions, so avoid storing with other produce. Keep unshucked fresh corn in the refrigerator until ready to use, wrapped in damp paper towels and placed in a plastic bag. Refrigerate for no more than three days.

Jersey Fresh corn and tomato recipes are available at www.jerseyfresh.nj.gov/recipes/recipefile.htm.