NJ DEPARTMENT OF AGRICULTURE UNLEASHES TINY WEEVIL IN FIGHT AGAINST INVASIVE WEED
For Immediate Release: July 9, 2010
Contact: Lynne Richmond
(609) 633-2954

(TRENTON) – More than 2,000 weevils were released today in Union County.  The tiny bug's mission -- to eat every mile-a-minute weed in sight.

The New Jersey Department of Agriculture's Phillip Alampi Beneficial Insect Laboratory was called in when two areas in Union County experienced problems with the mile-a-minute weed.   On Union County Parks property off of Featherbed Lane in Clark, 1,000 weevils were released where the weed has spread over an old field and near a stream.  In Moutainside, 1,300 weevils were set free in the Watchung Reservation, where mile-a-minute can be found almost anywhere. 

The Phillip Alampi Beneficial Insect Lab raises the weevils to beat back the invasive weed that grows six inches a day and overtakes areas, choking out native plant life. 

"Mile-a-minute weed is an ecological and agricultural pest that if left unchecked will take over, shading out everything else," said New Jersey Secretary of Agriculture Douglas H. Fisher.  "Mile-a-minute is biological pollution that threatens New Jersey's landscape."

Since the Department of Agriculture began the weevil-rearing program in 2004, about 146,000 weevils have been released in New Jersey counties.  It is now well-established in Salem, Gloucester, Hunterdon, Warren, Bergen and Mercer counties and the mile-a-minute problem is diminishing in those areas.  The weevils, originally from China, only eat mile-a-minute weed.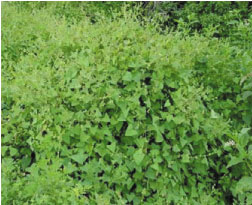 Mile-a-minute weed is an herbaceous trailing vine that can climb over, and shade out native plants at the edges of woods, along stream banks, and roadsides. Mile-a-minute also can be a problem in untilled agricultural areas such as Christmas tree farms and reforestation seedling plantations. Mile-a-minute is native to India and Eastern Asia, and was accidentally introduced into Pennsylvania in the late 1930's.

Mile-a-minute has a reddish stem and alternate, triangular leaves in the shape of an equilateral triangle. Both the stem and the underside of the leaves are armed with downward pointing barbs that aid the plant in climbing and supporting itself on other plants as well as serving a defensive purpose.  The seeds of the weed are spread mainly by birds and can stay viable for up to 5 years, making it difficult to eradicate the weed through chemical control methods.

The Department plans to release about 20,000 weevils in New Jersey this year.  In 2009, 46,116 weevils were released at 12 sites, 10 of which were new.

Subsequent inspections have shown that weevil colonies have been established at 100 percent of the release sites in the state and were even found 43 miles from the nearest release site in Salem County.

The Phillip Alampi Beneficial Insect Laboratory in Ewing, built in 1985, is one of the leading, state-of-the-art beneficial insect raising facilities in the nation.  The Department seeks natural enemies of insects and weeds that damage crops, ornamentals and threaten the state's forests and wetlands.  NJDA works closely with federal and other state departments of agriculture and university researchers to alleviate pest problems by developing ways to raise the natural predators of these pests in the laboratory and release them in the areas affected by pests.  Because the beneficial insects help control damaging weeds and insects, they also reduce the amount of pesticides used by farmers and gardeners.

For more on the Department's biological control of plant pests, visit www.state.nj.us/agriculture/divisions/pi/prog/biological.html.