SECRETARY OF AGRICULTURE JOINS CAMPERS FOR DAY ON THE FARM AT DAIRY DAY CAMP
Camp Teaches Children About the Importance of Agriculture in NJ

For Immediate Release: July 13, 2010
Contact: Lynne Richmond
(609) 633-2954

(TRENTON) – New Jersey Secretary of Agriculture Douglas H. Fisher today watched as children washed their show calves at the Fulper Dairy Day Camp, taking place at Fulper Farms, a 100-year-old family-owned dairy farm in West Amwell.

Twenty-four children are participating in the camp this week, which aims to educate youngsters about the importance of the dairy industry in New Jersey.  It also provides a way for children to learn where dairy products come from, what it takes to run a dairy farm, and how to care for their own calf.

"Through this unique on-farm experience, young people who may have little knowledge about agriculture get to experience what it really is like to be a farmer," said Secretary Fisher.  "They are able to see that it is hard, but rewarding, work to produce the food we eat.  This camp is just one way to help people understand how vital it is to have a thriving agriculture in our state."

The camp is the brainchild of Breanna Fulper, a fifth-generation farmer and a recent graduate of Cornell University with a major in dairy production and management, along with a strong concentration in business management.  This is the fourth summer she and her sister, Mikayla, are running the program.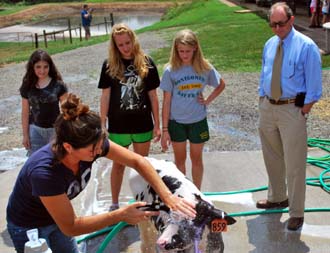 Breanna Fulper shows campers and Secretary Fisher how to wash a calf

"I, along with my family, started the camp because we believe that on-farm education is crucial since most people are so far removed from their agricultural ancestry," said Fulper, the 2005 New Jersey Dairy Queen.  "I feel like I am making an impact by teaching children about where their food comes from and the hard work that goes into it."

The camp pairs two children, ages 10 to 13, together to care for a calf during the week.  They learn how to wash, clip, and properly handle the calf for a show.  Chores are mixed with games, crafts, contests, food and activities, all with a dairy farming theme.  Campers learn about the farm and the dairy industry and use their knowledge in a scavenger hunt and dairy jeopardy.  In addition, they make ice cream, milkshakes, and butter, milk a cow, go on hayrides and nature hikes, and play farm games.  Families of each participant are invited on the last day of the camp to watch each child present their calf in a show. 

The Fulper farm is 1,200 acres with 300 Holstein cows, owned by Breanna's father Robert and his brother, Fred Fulper.  Milk produced on the farm is shipped to Farmland Dairies in Wallington, NJ and is used to make an innovative school milk in single-serve plastic chugs in multiple low-fat flavors.  The milk is served in hundreds of New Jersey schools.  The Fulpers also are making plans to add a renewable energy system to their farm through solar power. 

On-farm recreational and educational opportunities, or agritourism, generate about $57.5 million in revenues annually for New Jersey farmers.

For more on-farm activities in New Jersey, visit www.visitnjfarms.org or www.jerseyfresh.nj.gov.