SECRETARY FISHER VISITS JERSEY FRESH-THEMED CORN MAZE
For Immediate Release: October 14, 2010
Contact: Lynne Richmond 
(609) 633-2954

(TRENTON) – New Jersey Secretary of Agriculture Douglas H. Fisher visited Stony Hill Farm Market's Jersey Fresh-themed corn maze in Chester on October 12. 

The 10-acre maze features the New Jersey Department of Agriculture's Jersey Fresh slogan, "Jersey Fresh, As Fresh As Fresh Gets," in the design.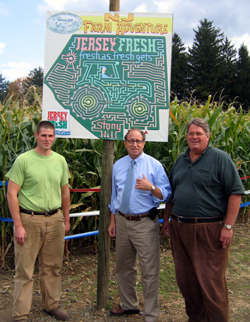 Dale Davis IV, Secretary Fisher and Dale Davis at the entrance to the Jersey Fresh corn maze


Farm owner, Dale Davis, said he decided to use Jersey Fresh as his corn maze's theme this year because of the popularity of community farmers markets and buying local.  Davis sells his produce at 20 community farmers markets throughout the week during the growing season.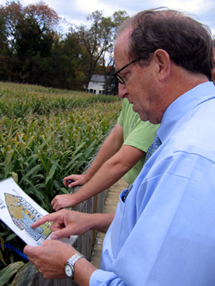 Stony Hill is just one example of the many opportunities for people to visit farms in New Jersey this fall for a variety of activities, from picking your own apples and pumpkins, taking hay rides, visiting wineries, or navigating corn mazes.

New Jersey offers four seasons of agritourism, a growing segment of the agriculture industry which provides the state's farmers with $60 million in revenue each year.

Secretary Fisher stops on a bridge in the center of the maze to plot his course 

Besides the corn maze, Stony Hill offers hay rides, school and group tours, an apple garden, and pick-your-own pumpkins.

To find activities planned this fall on New Jersey farms, visit www.jerseyfresh.nj.gov/cornmazes.htm,  www.visitnjfarms.org, and www.visitnj.org websites.