CUMBERLAND COUNTY TEEN NAMED 2011 NJ AGRICULTURAL FAIR AMBASSADOR
For Immediate Release: November 10, 2010
Contact: Lynne Richmond 
(609) 633-2954

(TRENTON) – Samantha Mason, an 18-year-old Cumberland County College student, will serve as the 2011 New Jersey Agricultural Fair Ambassador.

Mason was selected by the Agricultural Fair Association of New Jersey at the group's annual meeting on Sunday, November 7 in Eastampton.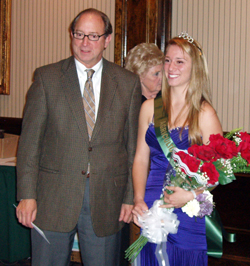 "Samantha is the fourth-generation in a hard-working farm family who loves agriculture and believes in its future in our Garden State," said New Jersey Secretary of Agriculture Douglas H. Fisher, who crowned Mason as the ambassador.  "She will be a great spokesperson for New Jersey agriculture and a wonderful mentor to young people when she visits the agricultural fairs next season."

As ambassador, Mason, of Vineland, is charged with visiting the state's agricultural fairs in 2011, discussing the fairs, promoting agritourism to the public, and bringing people together to support the state's agriculture industry. 

"My family has been produce farmers for over 80 years so, needless to say, agriculture is my life," wrote Mason in her contest essay.  "Everyone on the farm takes great pride in the name stamped onto the side of every crate that leaves our farm.  This, I believe, has instilled the dedication and motivation I live by every day."

Mason's family grows a variety of vegetables on their farm, including yellow squash, eggplant, Italian eggplant, tomatoes, sweet potatoes, lettuce, pickles, collard greens, kale, parsley, dill, arugula, and cilantro.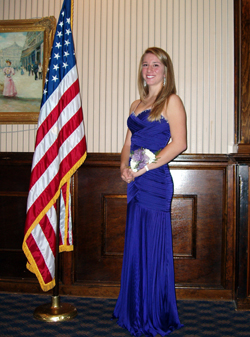 Starting at a very young age, Samantha would accompany her mother delivering vegetables to various local produce depots.  She grew up with two horses on the farm, which prompted her involvement with the 4-H horse program.  She has been involved in horse showing, trail riding and many educational and leadership events such as horse bowl, horse judging and hippology, horse camp, clinics, trips and contest, allowing her to travel extensively throughout the state and around the country.

Samantha participated in numerous rallies to protect the New Jersey Department of Agriculture when it was being considered for elimination.  She served as President of Hoof Beats 4-H Club, Chairperson for the National 4-H Congress "Ride for Twister" Community Service Project, and a Horse Camp counselor. 

She was the 2010 South Jersey 4-H Teen Representative, the 2009 Cumberland County 4-H Ambassador and Member of the Year, 2009 Grand Champion at the State 4-H Horse Show for Western Horsemanship and the 2007 Reserve Champion for English Equitation.

In high school, Mason was a cheerleader, played field hockey and was a member of the National Honor Society and Key Club.

Mason, is a member of the American Sign Language Club and is studying special education, exercise science and sign language in college.

This is the eighth year the Agricultural Fair Association of New Jersey has named an ambassador.  In choosing an ambassador, the Association seeks a good representation of young people active in agriculture in the Garden State and their county fair. 

Selected First Runner-up in the competition was Victoria Francis of Bordentown, Second Runner-up was Kaitlyn Foder of Lambertville and Third Runner-up was Clair McKittrick of Colts Neck.

There were 18 agricultural fairs in the state this past summer, including the New Jersey State Fair at the Sussex County Fairgrounds.  The earliest fair is held at the end of May, with the final fair of the season in late August.

For more information on New Jersey's agricultural fairs, visit www.njagfairs.com.