Home
>
News
>
Press Releases
>
2010
>
SECRETARY OF AGRICULTURE HELPS VOLUNTEERS PACK JERSEY FRESH PRODUCE FOR THANKSGIVING BASKETS
SECRETARY OF AGRICULTURE HELPS VOLUNTEERS PACK JERSEY FRESH PRODUCE FOR THANKSGIVING BASKETS
Fisher Urges NJ Residents to Fight Hunger in the State

For Immediate Release: November 16, 2010
Contact: Lynne Richmond 
(609) 633-2954

(TRENTON) – New Jersey Secretary of Agriculture Douglas H. Fisher and 20 Farmers Against Hunger volunteers today bagged potatoes, sweet potatoes, onions, carrots, apples, turnips and various types of squash donated by local farmers that will be distributed to several hunger relief organizations in Mercer and surrounding counties for inclusion in Thanksgiving meal baskets for clients of those agencies.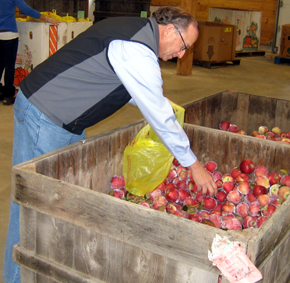 "Every New Jersey resident should be able to eat fresh, wholesome Jersey Fresh fruits and vegetables as part of their Thanksgiving holiday meal," said Secretary Fisher.  "Our state's farmers are extremely generous year-round, and through Farmers Against Hunger, they will help thousands of families share our state's bounty this holiday season."

Secretary Fisher places apples in a bag


Fisher was joined at Terhune Orchards in Princeton by volunteers from Mount Carmel Guild and Crisis Ministry of Trenton and Elijah's Promise of New Brunswick.

Farmers Against Hunger is a non-profit organization designed to link farmers, grocery stores and produce suppliers with emergency feeding operations throughout the state.  In addition to outright donations of surplus produce from farmers, volunteers are often invited on to farmers' fields to glean produce.  The food is then delivered to foodbanks, pantries and soup kitchens.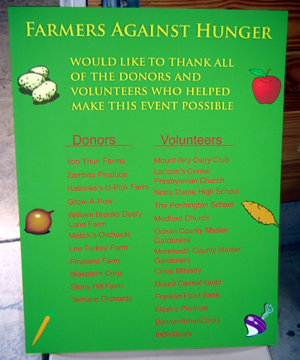 Last year, Farmers Against Hunger put together more than 3,500 bags, consisting of between 25,000 and 30,000 pounds of produce for Thanksgiving distribution.  Each family received an 8 – 10-pound bag of vegetables for their Thanksgiving dinner.  They are hoping to assemble between 4,500 and 5,000 bags with the 50,000 pounds of local produce donated this year.

"It's all about fresh produce that is locally grown from New Jersey farms," said Judy Grignon, Farmers Against Hunger program director.  "It is likely the produce that we provide is the only fresh foods people in need get for the holidays."

In 2009, Farmers Against Hunger collected and distributed more than 1.2 million pounds of fresh produce and other items.  So far this year, they have collected more than a million pounds.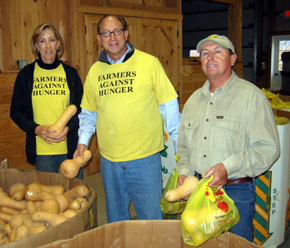 Judy Grignon, Secretary Fisher, and New Jersey Agricultural Society President Bill Griffin bag butternut squash for inclusion in Thanksgiving baskets for the needy.






The New Jersey Department of Agriculture administers the federal Emergency Food Assistance Program, which provides United States Department of Agriculture-donated foods to state food banks for distribution to 793 food pantries, soup kitchens and homeless shelters. 

The Department also operates the State Food Purchase Program for which Governor Chris Christie and the Legislature allocated $6.8 million for in the current fiscal year.  About half of that has already been doled out to the state's six contracted food banks for the purchase of high-nutrition foods, including produce purchased from New Jersey farmers.

In the past two years, emergency feeding operations have reported a huge increase in the number of clients needing access to food.

"Our state and federal government programs to fight hunger provide only a fraction of the amount of food needed to assist the hungry," said Secretary Fisher.  "We call on all who have the ability to help your neighbor by organizing food drives, donating food and resources and volunteering either at a local agency or your nearest foodbank, now during the holidays and all year long."

For more information about the Department of Agriculture's State Food Purchase Program, visit www.nj.gov/agriculture/divisions/fn/fooddistrib/foodpurchaseprogram.html.

To find out more about the Emergency Food Assistance Program, visit www.nj.gov/agriculture/divisions/fn/fooddistrib/tefap.html.    

To learn more about Farmers Against Hunger, visit www.njagsociety.org/fah/index.htm. cr