SECRETARY FISHER ISSUES EAT LOCAL CHALLENGE FOR THANKSGIVING
Highlights the Availability of Jersey Products For the Fall Holiday Meal

For Immediate Release: November 22, 2010
Contact: Lynne Richmond 
(609) 633-2954

(HIGHTSTOWN) -- New Jersey Secretary of Agriculture Douglas H. Fisher today urged residents to seek out local items for their Thanksgiving dinners, saying all the ingredients for the meal are grown or produced right here in the Garden State.

"From greens for salad, potatoes, carrots and turkey to cranberry sauce, apples for apple pie and wine, it's really satisfying to assemble an all-Jersey meal for Thanksgiving," said Secretary Fisher.  "I urge everyone to share in the bounty right at their fingertips and visit a local farm, winery, specialty store, supermarket or year-round farmers market to find Jersey Fresh ingredients for their great taste and health benefits and to support our agricultural industry."

Jersey Fresh is no longer strictly fresh produce; there are many processed products being made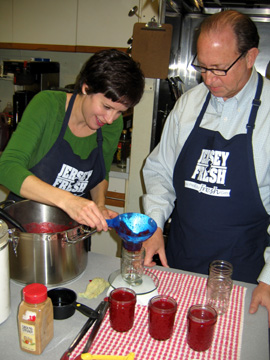 using Jersey Fresh.  Nina Rizzo, owner of Jersey Jams and Jellies, uses only ingredients and fruit grown on organic or sustainable farms in New Jersey in her products.  She spent some time this afternoon showing Secretary Fisher how simple it is to can cranberry sauce, using Jersey Fresh cranberries from Paradise Hill Farm in Vincentown, Burlington County.

Rizzo said she started paying attention to food labels after the birth of her son, Hendrick, now 5.  She felt if she made her own food, she could ensure the quality of the ingredients in her son's diet.  She initially began canning applesauce, jams and jellies because those are staples in the diets of many children. 


Nina Rizzo and Secretary Fisher can the freshly-made Jersey Fresh cranberry sauce

"It's very important to use local fruits in canning because just-picked fruits have the most flavor and nutrient value," said Rizzo.  "I started this brand to help farmers because, even though we live in the Garden State, too many of us don't know exactly where food comes from, its seasonality and the importance of supporting local agriculture.  I want to promote a positive image of the Garden State as a place where consumers can get the best-tasting fruits available."

Rizzo uses simple ingredients for her cranberry sauce, saying the process is easy for home cooks to replicate.

Nina's Cranberry Sauce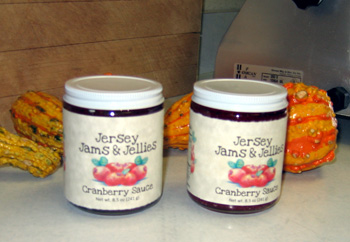 8 cups fresh or frozen Jersey Fresh cranberries
2 cups apple cider
2 cups sugar
1/2 tsp. cinnamon
1 pod cardamom

Bring the apple cider to a boil on medium-high heat. Add the cranberries and the cardamom pod and cook for about 10 minutes, until at least half the berries have popped and the sauce is mushy.  Run the mixture through a food mill to remove seeds.  Put back in the pot and cook with sugar and cinnamon. Bring to a rolling boil for 1 minute.  You can serve hot or cold. Follow canning directions if you want to make the product shelf-stable for up to a year, or refrigerate immediately if you will be eating the sauce within a few weeks.  Makes five 8-oz. jars.

For more Jersey Fresh recipes, visit www.state.nj.us/jerseyfresh/recipes/recipefile.htm.

To see what's in season, visit www.state.nj.us/jerseyfresh/searches/availability.htm.

For more information on where to find Jersey Fresh, visit www.jerseyfresh.nj.gov.