JERSEY POINSETTIAS AVAILABLE NOW AT LOCAL GARDEN CENTERS AND FLORISTS
1.3 Million of the Popular Holiday Plant Grown by NJ Growers Each Year

For Immediate Release: December 10, 2010
Contact: Lynne Richmond
(609) 633-2954

(TRENTON) – New Jersey Secretary of Agriculture Douglas H. Fisher today urged consumers to ask for locally-grown poinsettias when purchasing the plant for the holidays this year.

"Just like buying local produce helps our state's farmers, buying a poinsettia that was grown here in New Jersey, helps sustain our state's agriculture industry," said Secretary Fisher.  "Poinsettias are a beautiful, festive plant and we have many growers in the state who specialize in the traditional as well as more unusual varieties.  They make great gifts, or decorations for your holiday home."

There were 58 poinsettia growers in New Jersey in 2009, who sold 1,335,000 potted plants.  Wholesale sales of New Jersey-grown poinsettias amounted to more than $6.6 million in 2009, according to the National Agricultural Statistics Service of the United States Department of Agriculture.

To highlight the innovative growers in New Jersey, Secretary Fisher visited Kube Pak in Allentown, one of the largest poinsettia growers in the state.  Poinsettias are one of the wholesale grower's specialties and they offer a wide variety of high-quality, unique varieties.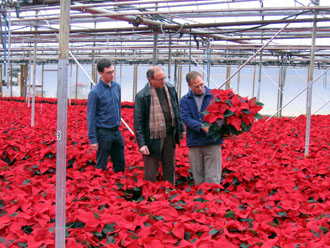 Rob Swanekamp Jr., Secretary Fisher and John Swanekamp look at a high-quality poinsettia, grown at Kube Pak in Allentown.


"Think more than red when considering a poinsettia purchase," said John Swanekamp, a co-owner of the family-run business, started in 1957.  "White, pinks, and multi-colored varieties abound, as well as Painted and Glittered Poinsettias.  Ask your local garden center or florist and they will be happy to provide you with a plant that blends in with any décor.  With minimal care, these holiday favorites will last until Valentine's Day."

Swanekamp said buying locally-grown poinsettias ensures the plant has a longer shelf life than others that are shipped in from out of state.

Poinsettias are easy to care for and should be watered only when dry to the touch.  Locate the plant in a bright, cool place, avoiding drafts.  Keep away from heating vents and other sources of heat, such as fireplaces and radiators. 

Kube Pak produced more than 100,000 pots of poinsettias this year, which were sold to retailers throughout New Jersey and neighboring states. 

To locate a nearby garden center, visit www.jerseygrown.nj.gov/retailers_info.html.

National Poinsettia Day will be commemorated on Sunday, December 12.  The day was created by an Act of Congress to enjoy the beauty of the plant, first introduced in the United States by Joel Roberts Poinsett.