NETCONG ELEMENTARY SCHOOL TOPS IN STATE FOR NUTRITION PROGRAMS
Morris County School Wins Grand Prize in NJDA, Jets, Dairy Council Eat Right, Move More Program

For Immediate Release: December 14, 2010 
Contact: Lynne Richmond 
(609) 633-2954

(NETCONG) – New Jersey Secretary of Agriculture Douglas H. Fisher and New York Jets offensive tackle D'Brickashaw Ferguson announced today that schools in Netcong, Haledon, Hightstown, Jersey City and Lakewood are this year's winners of the Eat Right, Move More contest.

Fisher and Ferguson visited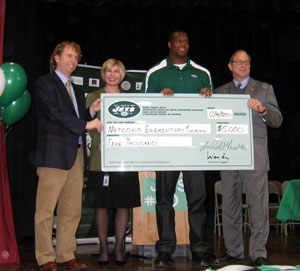 the grand prize winner, Netcong Elementary School for a special program and to present the school with a check for a $5,000 kitchen makeover, made possible by the Jets and the American Dairy Association & Dairy Council's Fuel Up to Play 60 campaign.  School officials plan to use the money to purchase a stove, refrigerator/freezer unit and supplies that will allow them to provide more fresh food alternatives to the children and staff. 



Jesse Linder of the Jets, D'Brickashaw Ferguson and Secretary Fisher award the $5,000 grand prize school cafeteria makeover check to Principal Bammer.

"Through the Eat Right, Move More program, students throughout the state are seeing that eating nutritious foods, like what is offered in their school cafeterias, and exercising will benefit them as adults," said Secretary Fisher.  "We congratulate Netcong Elementary School and the other schools for creatively following our state's school nutrition standards and developing programs for students, staff and parents that increase their activity levels and teach about good nutrition."

The Eat Right, Move More program, a partnership between the Jets, the Department of Agriculture and the American Dairy Association & Dairy Council's Fuel Up to Play 60 campaign, encourages New Jersey school children to take advantage of healthy foods in their school cafeterias and become more active.  This year, the winning schools were chosen that best met the criteria established for the Healthier U.S. School Challenge Program.  Additionally, school lunch and breakfast menus were reviewed and the schools had to show strong support and demonstrate efforts to improve nutrition and physical activity among their students.

This is the fifth year of the Eat Right, Move More Program, with D'Brickashaw Ferguson as spokesman.  The campaign features posters of Ferguson in every school telling students, "Eating healthy meals helps me play my best.  Your school cafeteria has a variety of nutritious foods to keep you going all day long.  So let's get up and Eat Right and Move More!"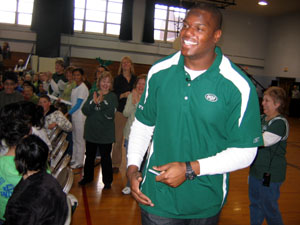 "Each year I am more impressed with the level of participation and the creativity of the schools involved in the Eat Right, Move More program," said Ferguson. "I am excited to be here today to honor Netcong Elementary's commitment to health and wellness and for winning this year's grand prize."

Ferguson interacts with students and faculty during a fun program at Netcong Elementary School

Netcong Elementary School, with 295 pre-K through 8th grade students, participates in the Farm to School Program, purchasing fresh fruits and vegetables for their school meals programs from New Jersey farmers. The school's breakfast and lunch menus regularly include fresh fruit and vegetables, salads, whole grains, 100% fruit juices, and low-fat milk.  In addition, the Netcong PTA helped establish a school garden.

Netcong students receive nutrition education, a Health and Nutrition Newsletter and various enhanced opportunities for physical activity, such as their Walk and Roll Wednesday events, Bike Rodeo, Wellness Expo and a Nutrition Fair. 

"Having D'Brickashaw Ferguson come to speak to the kids is something that the children and staff will remember forever," said Melissa Bammer, school principal/superintendent.  "They got to see a famous athlete who got where he is by making healthy choices and living a healthy life, being determined to work hard to be the most successful person he can be.  He showed them that it is paramount to have a healthy breakfast and lunch in order to learn properly."

Bammer, physical education teacher Kevin Earl, Secretary Fisher and six 4th through 8th grade students represented the school on Sunday, December 12 at the NY Jets vs. Miami Dolphins game at the Meadowlands Stadium in East Rutherford.  The group was taken onto the field to tape a piece that was shown at the end of the 4th quarter.  They also watched player warm-ups on the sideline and given seats on the 50-yard line.

"It's fun and exciting to be where the players play," said 7th grader Anthony Quan, who won his spot at the game by writing an essay about why kids should lead healthy lifestyles and make healthy choices; how being part of the day; will promote the Eat Right, Move More grant; and what he thought school officials should do with the grant.  Quan said he regularly eats healthy foods at school.  "I love the bags of apples in the cafeteria."

The other winning schools will receive visits from Jets players in the spring.  The schools are:  Haledon Public School, Haledon; Hightstown High School, Hightstown; P.S. #25, Nicolaus Copernicus School, Jersey City; and Oak Street School, Lakewood.

Programs funded by the New York Jets Foundation touch the lives of countless young men and women in the tri-state area. Over the past nine years, the Jets and their charitable foundation have donated or contributed more than $8 million to promote youth health, fitness and education, particularly in disadvantaged communities. From fighting childhood obesity through the Generation Jets: Be Lean & Green initiative to launching a football team in a Harlem high school, urging students to eat right and move more, and supporting the efforts of the Alliance for Lupus Research, the New York Jets invest in programs that make a difference in the lives of others. In addition to the Jets Foundation, which supports their own extensive youth initiatives, the Jets partner with numerous established charitable organizations and participate in causes sponsored by the NFL.

The Department of Agriculture's comprehensive school nutrition policy covers pre-kindergarten through 12th grade students.  The policy limits fat and sugar content in foods offered in a la carte lines, snack bars and vending machines, school stores and as part of on-campus fund-raisers.

More than 673,000 students in both public and private schools participate in the National School Lunch Program, administered by the Department of Agriculture.

For more information about the Department's school nutrition programs, visit www.nj.gov/agriculture/divisions/fn/childadult/school.html.