SECRETARY OF AGRICULTURE ENCOURAGES BUYING LOCAL HONEY, URBAN BEEKEEPING
Visits Jersey City Hotel Hosting Rooftop Beehives

For Immediate Release: April  30, 2012


Contact:

Lynne Richmond            
(609) 633-2954

(TRENTON) – Overlooking the distinctive Jersey City skyline, New Jersey Secretary of Agriculture Douglas H. Fisher today ascended to the roof of the Hyatt Regency Hotel to visit with the hotel's newest residents -- 36,000 honey bees -- in an effort to promote the purchase of local honey from New Jersey beekeepers, as well as support urban beekeeping.

The two bee hives, courtesy of beekeeper Joe Lelinho of Hilltop Honey, North Caldwell, are part of the hotel's initiative to incorporate local honey into the menus at their on-site restaurant, Vu. 

"The honey bee is a vital pollinator of important New Jersey crops, such as blueberries, apples, cranberries, cucumbers, squash and pumpkins," said Secretary Fisher.  "Having beehives in an urban setting, such as on the roof of the Hyatt, enhances backyard gardens in the surrounding area and provides honey that can possibly help neighboring allergy sufferers."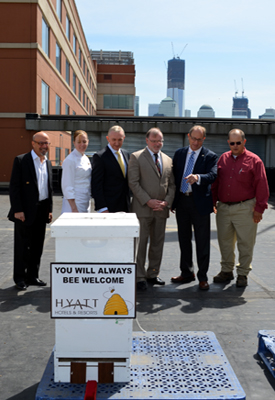 On the roof of the Jersey City Hyatt with One World Trade Center in the background, with beekeeper Joe Lelinho, Hyatt Executive Chef Kathy Kearney, Hyatt Jersey City General Manager Terry Dunbar, Mayor Jeremiah Healy, Secretary Fisher and State Apiarist Tim Schuler as they look at one of the beehives.

Hyatt Jersey City General Manager Terry Dunbar said his staff reached out to Lelinho several months ago following a discussion about their desire to serve local honey in Vu.  The Hyatt's partnership with Hilltop Honey is an extension of Hyatt's corporate responsibility platform, Hyatt Thrive, which strives to make their communities places where their workers are proud to work, their guests want to visit and their neighbors want to live.  

"The bees will not interfere with the guest experience and they will eventually produce honey," said Dunbar.  "When the honey is harvested, the hotel will offer samples to guests and incorporate it into our menus at our restaurant."

Lelinho placed two hives with 36,000 honey bees on the roof of the hotel on April 5.  By the end of the season, the bee population should swell to between 50 and 70,000.   Each hive is expected to produce about 100 pounds of honey this first year.  Lelinho said he is hoping this project will encourage people in the area to keep bees and to plant vegetable gardens.

"The Hyatt is doing a great service to the community," said Lelinho.  "Residents will notice they will get a higher yield from their trees, plants and fruit thanks to the bees and they won't even know it's happening."

Lelinho has been a beekeeper since 1996 and now operates more than 50 colonies of honey bees for the pollination of crops in North Jersey. 

In total, New Jersey had 11,000 bee colonies producing 451,000 pounds of honey in 2011.  That honey was worth $1.7 million.

The Department of Agriculture's State Apiarist Tim Schuler said there are about 2,500 registered beekeepers in New Jersey, but only two percent of those are considered commercial beekeepers, so many hives are kept in backyards, even in urban areas.

"Honey bees can be kept almost anywhere there are flowering plants that produce nectar and pollen," said Schuler.  "However, beekeepers in cities need to manage their bees so they do not become a nuisance to their neighbors."

Schuler said beehives can be placed so that bee flight paths do not cross sidewalks, playgrounds or other public areas.  If the yard has a water source, that also will prevent the bees from seeking out water at neighbors' swimming pools or water spigots.

The Department has guidelines for keeping bees in populated areas at: www.nj.gov/agriculture/divisions/pi/pdf/beeguidelines.pdf.

The Department continues to encourage and support people becoming beekeepers.  A beginning beekeeper course is offered through Rutgers University's Office of Continuing Education.  For more info on the course and dates it is being offered, visit www.cpe.rutgers.edu/brochures/intros/bee.html.

For more information on the New Jersey Department of Agriculture Bee Inspection program, visit www.nj.gov/agriculture/divisions/pi/prog/beeinspection.html.

The honey bee is New Jersey's official state insect.  Governor Brendan Byrne signed the law making that designation in 1974 after a Trenton second-grade class lobbied to honor the honey bee.