NEW JERSEY'S TOP SEAFOOD CHEF ANNOUNCED AT 2013 JERSEY SEAFOOD CHALLENGE
Christopher Albrecht of Eno Terra in Kingston will Represent the Garden State in National Crown Competition this Summer

For Immediate Release: June 20, 2013
Contact: Lynne Richmond
(609) 633-2954

(PRINCETON) – New Jersey Secretary of Agriculture Douglas H. Fisher today declared Christopher Albrecht of Eno Terra in Kingston the winner of the 2013 Jersey Seafood Challenge for his signature dish, Golden Tilefish and Green Vegetable Chowder. As the champion, Albrecht and his sous chef, John Crawford Koeniger, will be New Jersey's official representatives at the Great American Seafood Cook-off in New Orleans in August. Today's competition was held at Drumthwacket, the Governor's residence in Princeton.

"New Jersey's fishing and aquaculture industries are thriving, catching and growing some of the finest seafood in the world," said Secretary Fisher.  "Chef Albrecht will showcase our Jersey pride when he represents Governor Christie and the Garden State in the national cook-off this summer.  Congratulations to all the competitors who prepared an outstanding lineup of dishes that demonstrated the superior quality of our sustainable bounty of Jersey Seafood and Jersey Fresh produce."

Albrecht grew up on Long Beach Island and attended the Culinary Institute of America.  After graduation, Albrecht went to work in Manhattan at Danny Meyer's world renowned Gramercy Tavern.  There, he worked closely with "Top Chef" Tom Colicchio before assuming the role of Executive Chef at Craftsteak Las Vegas at the MGM Grand Hotel and Casino.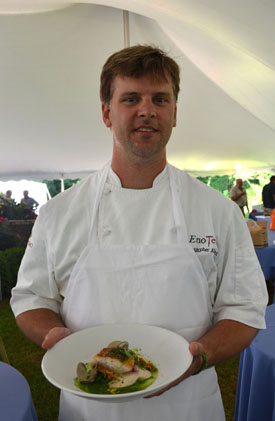 Christopher Albrecht with his winning dish

At Eno Terra, Albrecht said he focuses on high quality seasonal ingredients from small, family-owned farms and producers.  He also oversees a two-acre farm that produces most of the produce used at Eno Terra.

"To be able to show off what New Jersey does best is quite an honor," said Albrecht.  "I used tilefish, an unsung delicious fish that has a rich crab flavor and a steak texture.  The fish eats like an all-star."

First runner-up was Frank Benowitz, Chef/Instructor at Mercer County Community College in West Windsor and second runner-up was James Costello, Chef/Owner of the Ohana Grille in Lavallette.

Other chefs who participated in the cook-off, coordinated by the New Jersey Department of Agriculture and the New Jersey Chapters of the American Culinary Federation, included: Peter Almonte, Steve and Cookie's By the Bay, Margate City; Dominique Filoni, Avenue Restaurant, Long Branch; and Will Mooney, The Brothers Moon Restaurant, Hopewell.

The Jersey Seafood Challenge was sponsored by Anheuser Busch, Garden State Seafood Association, Kings Food Markets, Atlantic Cape Fisheries, Inc., Barney's Dock, Dock Street Seafood, Fisherman's Dock Co-op, Inc., LaMonica Fine Foods, Lund's Fisheries, Inc., The Lobster House, Viking Village and the New Jersey Restaurant Association.

The Great American Seafood Cook-off is limited to 20 chefs with the champion being named King or Queen of American Seafood. The cook-off is televised by the Food Network and is part of the Louisiana Foodservice Expo.  The event will take place on August 3 in New Orleans.

Judging the competition were: Jennifer Monaco, Club Managers Association of New Jersey; Jim Weaver, President, New Jersey Slow Food Movement; Gary Giberson, Lawrenceville School Food Service Director; Nancy Painter, Edible Jersey, Editor and Publisher; Gef Flimlin, Rutgers University Marine Extension Agent; Greg DiDomenico, Executive Director of the Garden State Seafood Association; Bill Tillinghast, American Culinary Federation NE Regional President; chef Peter Fischbach, New Jersey's Great American Seafood Cook-off representative 2008-2010; and Demetrios Haronis, Chef, Fin, Tropicana Casino, Atlantic City and the 2012 winner of the Jersey Seafood Challenge.

As part of this year's Jersey Seafood Challenge event, the Department of Agriculture kicked off a sensory evaluation project for New Jersey clams.  Guests at the event were given samples of clams from the Great Bay, Sea Isle City and Highlands and were asked to rate the clams on: saltiness, sweetness, chewiness, earthiness and the color of the meat. 

"We hope to show consumers that there are differences in taste experience from clams grown in different areas of New Jersey, similar to oysters," said Secretary Fisher.  "In this way, we hope to bring a better understanding and appreciation for the quality and taste of Jersey clams."

In addition to the clams, guests were able to try Delaware Bay oysters, including Cape May Salts.  They were treated to a pairing lesson from Ventimiglia Winery from Wantage, NJ. 

Also on hand was Michael Deeg of The Salt Creek Grille in Princeton, who created The Jersey Diner Martini, the winning cocktail of the 2013 New Jersey Restaurant Association's Mixologist of the Year competition.



New Jersey's seafood industry

positively impacts the Garden State economy in many ways.  In 2011, New Jersey fishermen reeled in 176 million pounds of seafood, valued at $211 million.  It is estimated these landings generated a billion dollars of economic activity.  The industry also generates thousands of jobs, with 2,500 commercial fishermen, and 1,500 employed by more than 100 seafood processors/dealers. 

Home to six major fishing ports, Cape May/Wildwood was the fifth highest commercial fishing port in the nation in terms of value of the catch at $103 million.

New Jersey fishermen land more than 100 varieties of finfish and shellfish. New Jersey's most valuable fisheries in 2012 were sea scallops ($109 million), surf clams/ocean quahogs ($24 million) and blue crabs ($12 million), according to the National Oceanic and Atmospheric Administration (NOAA).

For more information about New Jersey seafood, visit the Jersey Seafood website at www.jerseyseafood.nj.gov.