NEW JERSEY CHRISTMAS TREE GROWER BESTOWED NATIONAL HONOR
Warren County Farm Will Furnish Christmas Tree to be Featured in White House Blue Room This Holiday Season

For Immediate Release: August 19, 2013
Contact: Lynne Richmond            
(609) 633-2954

(ARLINGTON, VA) -- A Warren County Christmas tree farm, which in the past has honored U.S. troops by donating trees to the families of servicemen and women, was itself honored on August 10 as its 8-foot Blue Spruce was named the Grand Champion in the Tree of the Year contest held by the National Christmas Tree Association. As winner of the national award, Wyckoff's Christmas Tree Farm in White Township, Warren County, will provide the White House Christmas Tree for the coming holiday season.

John Wyckoff, who represented New Jersey by winning the state's Christmas Tree Grower of the Year award, said, "It was an honor to represent the New Jersey Christmas Tree Growers Association at the national level. The award is a credit not only to our farm, but to the quality of the products being grown in New Jersey."

"This honor for the Wyckoff family means the nation will see firsthand the quality of Christmas trees grown in New Jersey," said Secretary of Agriculture Douglas H. Fisher. "We congratulate the Wyckoffs on continuing a great tradition of outstanding agricultural products from the Garden State."

This is the first time a New Jersey Christmas Tree farm has won the national award.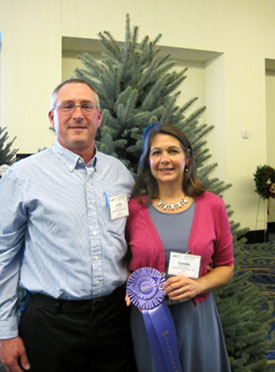 John and Leslie Wyckoff and their winning tree.

On August 1, the New Jersey Christmas Tree Growers Association selected Wyckoff's Christmas Tree Farm's Blue Spruce as the 2013 Grand Champion in their annual Christmas tree contest.  The Wyckoff family also earned the title last year with a Canaan Fir.  In total, the family has won the state contest nine times.

Last year, Wyckoff and his family donated 100 trees to the Trees for Troops campaign,

a charity program that donates real Christmas trees to service members and their families, sponsored by FedEx and the Christmas SPIRIT Foundation. 

. They were taken to Fort Eustis Army Base in Virginia to help lift the spirits of military families stationed there. At the same time, they donated 20 trees to the NORWESCAP Family Success Center in Phillipsburg for families facing hard times in that area.



The 172-acre farm in White Township, outside of Belvidere, has been owned by the Wyckoff family since 1839 and is now being farmed by the sixth and seventh generations of Wyckoffs.  They have 55 acres of Christmas trees with 5,000 trees available this season.  They grow Fraser, Douglas, Concolor, and Canaan Firs, Norway, Blue, and Serbian Spruces and White Pine.