Home
>
News
>
Press Releases
>
2014
>
NJ SCHOOL FOOD SERVICE PROFESSIONALS PREVIEW PREPARED FOOD FOR SCHOOL MEALS AT NJDA FOOD SHOW
NJ SCHOOL FOOD SERVICE PROFESSIONALS PREVIEW PREPARED FOOD FOR SCHOOL MEALS AT NJDA FOOD SHOW

For Immediate Release: January 17. 2014
Contact: Lynne Richmond 
(609) 633-2954
lynne.richmond@ag.state.nj.us 

(TRENTON) – The New Jersey Department of Agriculture presented the Second Annual USDA Foods Conference on January 9 at the East Brunswick Hilton in East Brunswick, showcasing the newest healthy school lunch offerings that could appear in school cafeterias around the state next school year. 

More than 300 school food service professionals and business administrators attended presentations and a vendor show of the latest trends in prepared school menu items made from U.S. Department of Agriculture donated bulk foods.  The manufacturers and distributors presented foods geared to meet the nutritional requirements of the Healthy Hunger-Free Kids Act school lunch regulations, enacted last year.

"The USDA Foods Distribution program provides a cost savings to school districts at the same time providing nutritious foods that appeal to children's tastes," said New Jersey Secretary of Agriculture Douglas H. Fisher. "This program is part of the Christie Administration's overall efforts to assist food districts and provide healthy options in school cafeterias." 

The USDA Foods Distribution program allows schools participating in the National School Lunch Program to utilize USDA foods and distribute them to processors who make nutritious reduced fat products at a reduced cost to school districts.  This year, there were many creative options including, whole wheat crust pizza using black or red beans in place of sauce, whole wheat flat bread that can be used to wrap turkey hot dogs or on sandwiches, and many Asian-style and Middle Eastern foods. 

The conference gave school food service professionals the opportunity to sample the foods and speak directly with manufacturers to meet their district's specific needs, helping them to determine which foods to order for the 2014-2015 school year.

Cliffside Park Schools Food Service Director Erik Korman said the show provided him with a broad range of options and will save him time in finding healthy choices that meet USDA nutrition standards.

"The show brings out better, fresh ideas and products for the school to use," said Korman.  "It lets us know what's out there for our kids."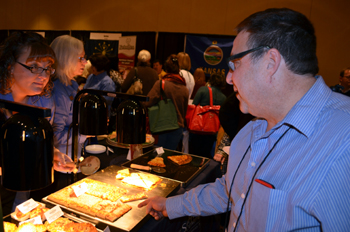 Erik Korman at the USDA Foods Show

The vendor selected by show attendees as the best booth was Service First Food Sales and Distribution. Heather R. Drumbore, President, said it was very helpful to her business, which is celebrating its tenth anniversary, to attend the Department's USDA foods show.

"It's a well-attended event; there's no way you could see so many potential customers in a day without the show," said Drumbore.  "We have high quality and honest people. It's hard to sell a product if we don't actually like it."

There were several presentations prior to the start of the foods show.  Tanya Steel, former editor of food lifestyle website Epicurious, urged attendees to spread the word about the Healthy Lunch Time Challenge, a contest for 8 to 12-year olds to develop, healthy, delicious recipes that adhere to USDA guidelines.  The winners were invited to attend a Kids State Dinner at the White House.

"I think what you guys do on the front lines is absolutely critical," said Steel.  "I have tremendous admiration and respect for what you guys do. As Napoleon said; the army marches on its stomach and so do the kids."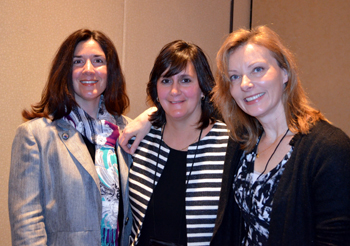 NJDA Division of Food and Nutrition Director Rose Tricario, NJDA Food Distribution Manager Jennifer Zeligson and Tanya Steel

Each show vendor was asked to prepare one of the winning recipes from the Challenge and offer it for tasting along with their product samples. Jennie O prepared the New Jersey winner Goldie Siegel's recipe of Hawaiian Turkey Sliders with Mango-Pineapple Salsa.

Other speakers were Adele LaTourette, Director of the New Jersey Anti-Hunger Coalition, and Peter Grote of the Food Bank of Monmouth and Ocean Counties.  LaTourette stressed the importance of providing a school breakfast program.

"How many of you know hungry children in your schools?" she asked the crowd. "People are in need everywhere, there is no community that is exempt from this problem."

Grote asked the school officials to support the Students Change Hunger program, in which schools compete to collect the most food items or funds to donate to food banks.  He said the 2013 program gathered 60,000 pounds of food and $15,000 in donations and he is hoping it will grow even bigger this year.

"The new status and organization of the competition will now challenge students from all over the state to take part in the process of providing food banks with food for the holiday season."

In addition, Department staff gave a program update and reviewed new online features to assist school districts in the process.

For more information on the USDA Foods Distribution program, visit www.nj.gov/agricutlure/divisions/fn/fooddistrib/slcd.html.