CHRISTIE ADMINISTRATION HONORS LINDENWOLD DISTRICT'S SCHOOL BREAKFAST ACHIEVEMENTS
School Breakfast Week Marked March 3-7

For Immediate Release: March 6, 2013
Contact: Lynne Richmond
(609) 633-2954
lynne.richmond@ag.state.nj.us

(LINDENWOLD) – The New Jersey Department of Agriculture today celebrated National School Breakfast Week with a visit to Lindenwold School 4 to highlight the district's efforts to ensure more students start the school day with breakfast.

National School Breakfast Week, being commemorated March 3-7, is an initiative of the School Nutrition Association.  The week was launched in 1989 to raise awareness about the availability of the U.S. Department of Agriculture's School Breakfast Program and increase participation, both by schools and students.

"The New Jersey Department of Agriculture continues to make progress in increasing the number of students participating in this important program statewide by supporting and fostering districts' efforts to serve breakfast after the bell, gaining wider access to breakfast for more students," said Rose Tricario, Director of the Division of Food and Nutrition.  "We applaud Lindenwold District's commitment to the School Breakfast Program by offering morning meals to students at the start of the school day in the classroom."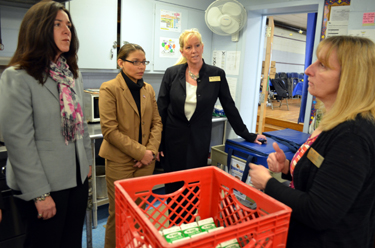 Rose Tricario, Assemblywoman Gabriela Mosquera, Cathy Connolly of Nutri Serve and Kathy Lewis, District Food Service Director, explaining the way breakfast is delivered to the classroom

New Jersey Secretary of Agriculture Douglas H. Fisher and then-New Jersey Education Commissioner Chris Cerf in 2012 joined together to urge schools to offer breakfast in the classroom to increase participation and capture a larger percentage of children who qualify for free or reduced price breakfast who were not able to access the meal before.

This year, the Food Research and Action Center reported in its school breakfast report card that New Jersey increased in national rank to 37th in breakfast participation from the 2011-2012 to the 2012-2013 school year.  In the current school year, almost 37,000 more students are eating breakfast on a daily basis, a 16.8 percent increase over the 2012-2013 school year.  There are about 255,000 children in New Jersey who participate in the program daily.

The Lindenwold School District implemented universal free breakfast in the classroom in its two elementary schools in February 2013 and there have been increasing numbers of students eating breakfast each day.

"Participation is going up, the kids enjoy it and look forward to it," said district Food Service Director Kathy Lewis.  "There also are less kids in the nurse's office saying they're hungry."

Some of the items on School 4's breakfast menu include yogurt, cereal, pancakes, cereal bars, fruit and milk.  About 400 kindergarten through fourth grade students in the school are served breakfast each day.

State law requires breakfast to be served in schools in which 20 percent or more of the students enrolled are eligible for free or reduced price meals under the federally-funded National School Lunch Program.  Of the students who receive free or reduced price lunch, only 44 percent receive school breakfast.

The USDA's School Breakfast Program provides a nutritious start to each school day for nearly 13.2 million children in over 88,000 schools nationwide.

For more information on the School Breakfast Program, visit www.nj.gov/agriculture/divisions/fn/childadult/school_breakfast.html.