CHRISTIE ADMINISTRATION RECOGNIZED BY USDA UNDER SECRETARY CONCANNON FOR SCHOOL BREAKFAST
Visit to Woodbury City School Represents Example of Increased Breakfast Participation

For Immediate Release: April 1, 2014
Contact: Lynne Richmond
(609) 633-2954
lynne.richmond@ag.state.nj.us 

(WOODBURY) – New Jersey Secretary of Agriculture Douglas H. Fisher today welcomed Kevin W. Concannon, U.S. Department of Agriculture Under Secretary for Food, Nutrition and Consumer Services, who came to New Jersey to commend the state for making great strides in increasing participation in the School Breakfast Program.

Fisher joined Concannon in Woodbury City where the school district has increased the school breakfast participation rate by 50 percent.  The pair visited Evergreen Avenue Elementary School where all students receive a free breakfast in their classroom at the beginning of the school day.

"A principal goal of the School Breakfast Program is to ensure that all school children have access to a nutritious breakfast to promote learning readiness and healthy eating," said Under Secretary Concannon.  "The program provides children of all economic backgrounds a well-balanced, healthy meal consistent with the latest nutrition science and Dietary Guidelines for Americans."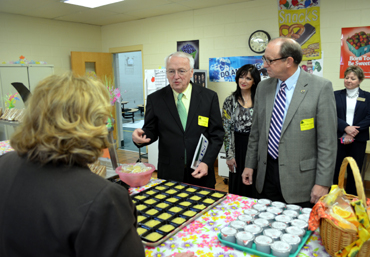 Karen Fynan of Nutri-Serve Food Management shows Under Secretary Concannon, Food and Nutrition Service Acting Regional Administrator Diana Limbacher and Secretary Fisher the healthy offerings at Evergreen Ave. School

This year, the Food Research and Action Center reported in its school breakfast report card that New Jersey increased in national rank to 37th in breakfast participation from the 2011-2012 to the 2012-2013 school year.  New Jersey also was among only nine states to have a five percent or higher increase in breakfast participation.  In the current school year, almost 37,000 more students are eating breakfast on a daily basis, a 16.8 percent increase over the 2012-2013 school year.  There are about 255,000 children in New Jersey who participate in the program daily.

"New Jersey increased its breakfast participation ranking because we have provided greater program accessibility," said Secretary Fisher.  "We have partnered with the New Jersey Department of Education in support of breakfast after the bell.  Through coordination with school administrators, we have encouraged schools to serve breakfast in the classroom and have reinforced this time counts as instructional time, thereby capturing a larger percentage of children who qualify for free or reduced price breakfast who were not able to access the meal before."

Woodbury City School District first offered free breakfast to elementary students in the classroom in October 2012.  In September 2013, all four of the district schools offered free breakfast to all students.  There are 82 percent of the district's students eligible for free or reduced price meals.

"The Woodbury City Public Schools have invested serious energy into ensuring that all students start school ready to learn," said Woodbury City Schools Superintendent Joseph Jones III.  "This has extended to offering a breakfast in the classroom experience in all of our elementary schools and a breakfast after the bell program in our Junior-Senior High School.  The large percentage of students who now take advantage of a school breakfast is an indication of how important it was to shift our delivery away from the traditional before school structure.  With thoughtful planning and a dedicated, caring faculty and support staff, we have successfully transitioned our entire district to a program that put breakfast in easy reach for all children each school day."

Fisher and Concannon observed the packing of Wednesday morning's breakfast, which was a filled bagel with cream cheese, fresh fruit and milk.  Fresh fruit is served for breakfast three days a week in the district.

State law requires breakfast to be served in schools in which 20 percent or more of the students enrolled are eligible for free or reduced price meals under the federally-funded National School Lunch Program.  Of the students who receive free or reduced price lunch, only 44 percent receive school breakfast.

The USDA's School Breakfast Program provides a nutritious start to each school day for nearly 13.2 million children in more than 89,000 schools and institutions nationwide.

For more information on the School Breakfast Program, visit www.nj.gov/agriculture/divisions/fn/childadult/school_breakfast.html.