Home
>
News
>
Press Releases
>
2014
>
CHRISTIE ADMINISTRATION AND NY JETS HONOR EGG HARBOR CITY COMMUNITY SCHOOL FOR HEALTHY INITIATIVES
CHRISTIE ADMINISTRATION AND NY JETS HONOR EGG HARBOR CITY COMMUNITY SCHOOL FOR HEALTHY INITIATIVES
School Wins NJDA's Jets Play 60 "Eat Right, Move More" Program

For Immediate Release: April 23, 2014
Contact: Lynne Richmond 
(609) 633-2954
lynne.richmond@ag.state.nj.us 

(EGG HARBOR CITY) – New Jersey Secretary of Agriculture Douglas H. Fisher and New York Jets Kicker Nick Folk today honored Egg Harbor City Community School as one of the winners of the New Jersey Department of Agriculture's Jets Play 60 "Eat Right, Move More" program. 

The Jets and Nick Folk treated the school's 233 fourth through eighth-grade students to a fun program and presented the school with a $2,000 prize to be used for kitchen updates and physical education equipment, made possible by the Jets, the Robert Wood Johnson Foundation and the American Dairy Association & Dairy Council. 

"Egg Harbor City School officials work hard to help the students, staff and parents stay active as well as eat healthy," said Secretary Fisher. "We are proud to honor their achievement through this program."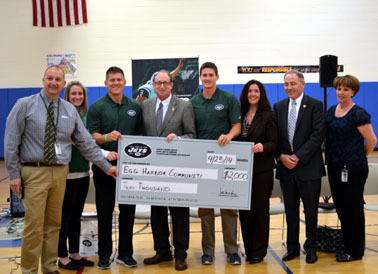 Principal Jack Griffith, Katie Sementa, Nick Folk, Secretary Fisher, Ryan Quigley, Rose Tricario, Assemblyman Vincent Mazzeo and Superintendent Adrienne Shulby

The Play 60 Eat Right, Move More program, a partnership between the Jets, the Department of Agriculture, the Robert Wood Johnson Foundation and the American Dairy Association & Dairy Council, encourages New Jersey school children to take advantage of healthy foods in their school cafeterias and become more active. 

This year, there was an emphasis on selecting schools that offer breakfast in the classroom.  Additionally, school lunch and breakfast menus were reviewed and the schools had to show strong support and demonstrate efforts to improve nutrition and physical activity among their students. 

"A good breakfast is such an important way to start each day so I think it was a great focus for this year's Eat Right, Move More program," said Nick Folk. "Coming to Egg Harbor City Community School today to celebrate this school's commitment to health and wellness is a real honor for me."

Roosevelt Elementary School in Rahway was the grand prize winner this school year, receiving a $10,000 grant, a Jets visit, and school representatives were honored at a Jets football game in December.  Egg Harbor City Community School was one of 10 finalist schools that competed for four more prizes based on their performance in the Jets Play 60 Challenge.  Egg Harbor City, Whiting Elementary School in Manchester Township, Samsel Upper Elementary School in Sayreville and Roosevelt School #7 in Garfield had at least 100 students who committed to logging 60 minutes of physical activity every day for four weeks.

Egg Harbor City Community School principal Jack Griffith said participating in the Play 60 Challenge meant a lot to the students and staff, helping to open the students' eyes to just how active they already were in their everyday lives.

"Since 2006 our school community has been on the cutting edge of school wellness and health," said Jack Griffith, school principal.  "We've worked hard to continue this effort by identifying issues that need to be addressed and solving them through the School Wellness Team.  The staff of the Egg Harbor City Community School is excited to be recognized by the NJ Department of Agriculture and the Jets organization for our hard work and dedication to improve school wellness and increase student physical activity." 

The school provides free breakfast in the classroom to all students and serves local fresh fruits and vegetables and offers a salad bar at lunch.  They have a school garden called the Edible Classroom, and they provide numerous extra opportunities for students and families to become more active.

Griffith said the grant will be used to buy a beginner's rock climbing wall and a chef from Atlantic City will be brought in next fall to assist in providing healthy lunches for students and mentoring the school's catering company.

As a professional football team that plays in New Jersey, the Jets regularly promote youth health, fitness, and education, particularly in disadvantaged communities.