CHRISTIE ADMINISTRATION HIGHLIGHTS MADE WITH JERSEY FRESH PRODUCTS
Secretary Fisher Visits Chocolate-Maker Who Uses NJ Honey

For Immediate Release: May 9, 2014
Contact: Lynne Richmond
(609) 633-2954
lynne.richmond@ag.state.nj.us 

(TRENTON) – New Jersey Secretary of Agriculture Douglas H. Fisher today urged food processors to consider incorporating New Jersey produce, honey and milk into their products and taking advantage of the Made with Jersey Fresh and Made with Jersey Fresh Milk program.

Fisher today visited chocolatier Diane Pinder whose Donna & Company in Kenilworth utilizes the Made with Jersey Fresh branding in the production of CocoaBee caramels and soy-, gluten-, dairy-, processed sugar- and artificial preservative-free chocolates, using honey from Tassot Apiaries in Milford.

"As we enter this year's Jersey Fresh growing season, consumers anxiously await the harvest of their favorite fruits, vegetables and herbs," said Secretary Fisher.  "Made with Jersey Fresh allows people to enjoy these local agricultural products year-round in processed foods.  Donna and Company is utilizing the brand in a most unique way.  We applaud their efforts and encourage other food processors to do the same."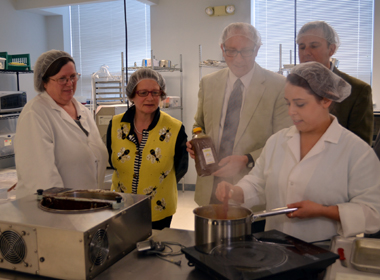 Left to right: Diane Pinder, chocolate-maker; Bea Tassot of Tassot Apiaries, Secretary Fisher, holding a jug of Tassot honey and Senator Tom Kean look on as a worker makes the caramel using the NJ honey

The Made with Jersey Fresh logo is available to companies who make food items using New Jersey's agricultural products. The logo alerts consumers that the products are made using local ingredients. New Jersey's produce season runs from May to November. Incorporating Jersey Fresh products into processed foods extends the season to year-round. It also expands distribution well beyond the region.

For a food processor to utilize the Made with "Jersey Fresh" logo, they must first become licensed to use the Jersey Fresh logo.  Then, they must use products that are inspected through the Jersey Fresh Quality Grading Program.  Those products must adhere to specific criteria for grading and quality.

For dairy products, to be able to use the "Made with Jersey Fresh Milk" logo, the item must be made with raw milk obtained from New Jersey dairy farms, licensed under the Jersey Fresh Quality Grading Program, and must comply with all Jersey Fresh standards for milk.

Diane Pinder already was making her caramels with local honey when she first heard of the Made with Jersey Fresh program.

"My chocolates seemed a great fit for the program and I felt the program would demonstrate to the public how I practice the principles of 'Slow Food,'" said Pinder.  "It has differentiated my products from others and has helped me market to the food stores that specialize in local products."

A former critical care registered nurse and marketing specialist, Pinder founded her company, named after her late sister, in 2005 with the goal of using natural and local ingredients in her chocolates.  She also wanted to be sustainable and support local farmers. 

Pinder had a chocolate shop at one time but turned to a primarily wholesale business a few years ago.  She produces several tons of chocolates each year.  Besides the honey caramels, during the growing season, Donna & Company also makes a bonbon using Jersey Fresh heirloom tomatoes.

Pinder has won numerous awards for her chocolates.  She was named 2013 Best Chocolatier at the International Chocolate Salon -- awards for t

he Best Chocolatiers and Confectioners in America – and also by

New Jersey Monthly Magazine in 2010.

Tassot Apiaries is a family-run business that manages honeybee hives on many parcels of land throughout New Jersey.  They specialize in chemical-free high quality honey and bee products.

New Jersey State Apiarist Tim Schuler said our state's beekeepers produce a wide variety of artisanal honeys from very light to almost black in color.

"Donna & Company and other processors who use New Jersey honey have the benefit of knowing the producer and how the honey is produced," said Schuler.  "With local, small-scale producers, there are many different types of honey with varied flavors.  When extracted with a minimal amount of processing, you can get a higher quality, more flavorful product."



New Jersey has 13,298 bee colonies that produced 579,738 pounds of honey in 2012.