CHRISTIE ADMINISTRATION AND NY JETS HONOR ROOSEVELT SCHOOL #7 FOR HEALTHY INITIATIVES
Garfield School Wins NJDA's Jets Play 60 "Eat Right, Move More" Program

For Immediate Release: May 21, 2014
Contact: Lynne Richmond 
(609) 633-2954
lynne.richmond@ag.state.nj.us 

(GARFIELD) – The New Jersey Department of Agriculture and New York Jets running back Alex Green today honored Roosevelt School #7 in Garfield as one of the winners of the New Jersey Department of Agriculture's Jets Play 60 "Eat Right, Move More" program. 

The Department of Agriculture and Jets presented the school with a $2,000 prize to be used for kitchen updates and physical education equipment, made possible by the Jets, the Robert Wood Johnson Foundation and the American Dairy Association & Dairy Council.  Then, Green treated the school's 365 kindergarten through fifth-grade students to a fun and educational program.

"Roosevelt School officials understand the benefits of eating healthy and physical activity for children," said New Jersey Secretary of Agriculture Douglas H. Fisher. "We are proud to honor their achievement through this program."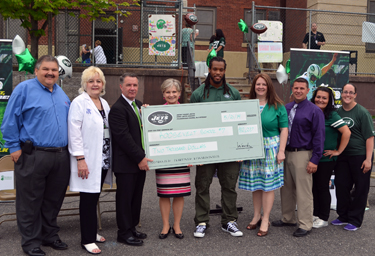 Carol Flato of the NJ Dept. of Agriculture and NY Jets player Alex Green present the school with their $2,000 prize.

The Play 60 Eat Right, Move More program, a partnership between the Jets, the Department of Agriculture, the Robert Wood Johnson Foundation and the American Dairy Association & Dairy Council, encourages New Jersey school children to take advantage of healthy foods in their school cafeterias and become more active. 

This year, there was an emphasis on selecting schools that offer breakfast in the classroom.  Additionally, school lunch and breakfast menus were reviewed and the schools had to show strong support and demonstrate efforts to improve nutrition and physical activity among their students. 

"A good breakfast is such an important way to start each day so I think it was a great focus for this year's Eat Right, Move More program," said Alex Green. "Coming to Roosevelt School #7 today to celebrate this school's commitment to health and wellness is a real honor for me."

Roosevelt Elementary School in Rahway was the grand prize winner this school year, receiving a $10,000 grant, a Jets visit, and school representatives were honored at a Jets football game in December.  Roosevelt School #7 was one of 10 finalist schools that competed for four more prizes based on their performance in the Jets Play 60 Challenge.  Roosevelt, Samsel Upper Elementary School in Sayreville, Egg Harbor City Community School, and Whiting Elementary School in Manchester Township each had at least 100 students who committed to logging 60 minutes of physical activity every day for four weeks.

Roosevelt School #7 principal Jennifer Alfonso said the students learned a lot by participating in the Play 60 Eat Right, Move More Program.

"This experience has helped our students achieve a better attitude towards healthy eating and physical activities," said Alfonso.  "With the time and generosity of the Jets and the Department of Agriculture, our children experienced how healthy eating and exercising will follow them for a lifetime."

Alfonso said the school works with its food service director to make sure the students receive well-balanced, nutritious meals, including fresh fruits and vegetables.  She said the prize money will be used to pay for fresh fruit and vegetable bi-weekly snacks for the remainder of the year.

As a professional football team that plays in New Jersey, the Jets regularly promote youth health, fitness, and education, particularly in disadvantaged communities.