AGRICULTURE SECRETARY VISITS WOODSTOWN H.S. AGRICULTURAL EDUCATION PROGRAM
Woodstown Program Features Academically-Infused Agriscience Courses

For Immediate Release: June 4, 2014
Contact: Lynne Richmond
(609) 633-2954
lynne.richmond@ag.state.nj.us 

(WOODSTOWN) – New Jersey Secretary of Agriculture Douglas H. Fisher today visited Woodstown High School's agricultural education program to learn more about the ways the program is preparing its students to move on to college and eventually science and technology-based agriculture careers.



Woodstown is one of 44 approved agricultural education programs in 32 New Jersey school districts.  Since 2009, 30 teachers from 19 New Jersey Agricultural Science Education programs have transformed their traditional horticulture or agriculture programs to academically infused agricultural science programs using the national Curriculum for Agricultural Science Education (CASE).  Woodstown teacher Sara Cobb is one of those teachers. 

 

"While traditional agricultural courses are still offered in high schools around the state, students now have a wonderful opportunity to take rigorous academic agriscience courses in both plant and animal pathways," said Secretary Fisher.  "We applaud the school administrators in the state for supporting these courses, positioning their students well to start choice careers in the agriculture industry."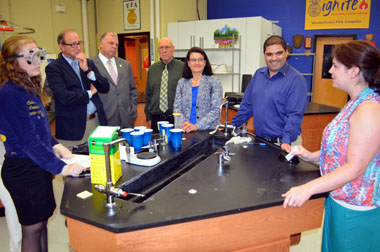 Woodstown H.S. agriscience teacher Sara Cobb explains the benefits of the new agriscience lab as a student demonstrates soil testing to Secretary Fisher and Senate President Stephen Sweeney and other guests.

Secretary Fisher toured Woodstown's new state-of-the-art agriscience laboratory and saw demonstrations from some of the students who have taken these CASE courses. 

Woodstown has more than 100 students enrolled in agricultural education courses.  Cobb, a graduate of Woodstown High School, teaches Introduction to Agriculture Food and Natural Resources and Principles of Agricultural Science – Plant.  She will be one of the teachers participating in a CASE Institute, hosted at Woodstown High School, to field test the newest CASE course, "Food Science and Safety."  Thirteen teachers, including Cobb, Nichole Carroll from Cumberland Regional High School, Dan Delcher from Essex County Vocational School and Keely Ditizio of Salem County Vocational Technical School will participate.  Another New Jersey teacher, Jennifer Wilson of North Warren Regional High School, will also be field testing but will attend a CASE Institute in another state, being held in Minnesota and Texas. The teachers will field test the course this fall and after reviewing it, refinements will be made so it can be offered throughout the country.

In addition to the new CASE course in the fall, Woodstown High School agricultural education students will have the opportunity to gain college credits at Rutgers University and Cumberland County College for successfully completing CASE courses.  Woodstown is one of 8 high schools in the state to reach agreement with various colleges and universities to give students college credits for CASE courses.

As a former student of agricultural education and FFA, I know the importance of a quality program and course offerings that prepare students for their future," said Cobb.  "The CASE program and the ability to grant college credit for high school courses offers students excellent opportunities to prepare for a career in the science, business and technology of agriculture."

There are more than 2,600 students enrolled in agricultural science education in New Jersey.  More than 1,000 of those students will be enrolled in CASE courses during the 2014-15 school year.  All 2,600 students are members of FFA with 37 chapters throughout the state. FFA is a national youth organization that uses agricultural science education to develop students' potential and help them discover their talent. 

"The CASE program 'raises the bar' for agricultural science education in our schools," said Nancy Trivette, New Jersey Department of Agriculture Agricultural Education Program Leader.  "It is a science, technology, engineering and math (STEM) infused agriculture curriculum that delivers academics through project /inquiry based learning. The increased academics prepare students for post-secondary and career success in the agriculture, food and natural resource industry.  It is our hope the CASE programs will attract more students to the industry so that we begin to fill the employment gap and are more prepared to feed and clothe 9 billion people by 2050."

The U.S. Department of Agriculture reports 54,400 annual employment opportunities in Food, Renewable Energy and the Environment, yet only 29,300 annual agriculture and natural resources college graduates.