CHRISTIE ADMINISTRATION ANNOUNCES JERSEY FRESH FARMERS MARKETS OPENING FOR THE SEASON
Community Farmers Markets Throughout State Offer Jersey Fresh Produce

For Immediate Release: July 3, 2014
Contact: Lynne Richmond
(609) 633-2954
lynne.richmond@ag.state.nj.us 

(TRENTON) -- New Jersey Secretary of Agriculture Douglas H. Fisher today celebrated the beginning of community farmer's market season in New Jersey with visits to farmers markets in Mercer, Monmouth and Burlington Counties.

Today's farmers market tour brings attention to the more than 145 farmers markets operating statewide.  Garden State farmers markets offer residents the opportunity to enjoy freshly-picked, Jersey Fresh produce directly from New Jersey farmers, while supporting state agriculture and their local economies at the same time.

"Many of our fruits and vegetables are in season now," said Secretary Fisher. "This is a great time to get the high quality produce that New Jerseyans love, while also having the opportunity to meet the farmer who grows it. It really does bring a sense of community."

Secretary Fisher started his day at the Princeton Farmers Market in downtown Princeton.  The market is in its fifth season and has more than 20 farmers and vendors. It is open from May through November on Thursdays from 11 a.m. – 4 p.m. at Hinds Plaza.

"The market was started as a means of bringing our area farms and their produce to Princeton," said Market Manager Megan McKeever.  "Our mission is to create an economically sustainable community for local farmers, producers and residents.  We believe in supporting our local farmers and in doing so, promoting a healthier environment."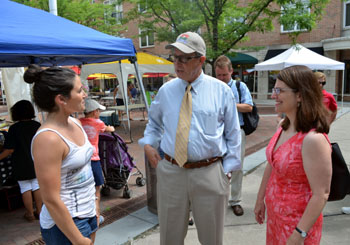 Secretary Fisher with market manager Megan McKeever and Princeton Mayor Liz Lempert
Fisher's next stop was at the West End Farmers Market in Long Branch.  Owner of Jesse's Café, Jesse Novak, started the market seven years ago and has several farmers and vendors who offer a wide range of fresh vegetables, many which she uses in her own restaurant. The market is open from June through November on Thursdays from 11 a.m. to 6 p.m. at 139 Brighton Avenue.

"The market has really connected the farmers with our community," said Novak, the market manager. "It also has given people access to fresh fruits and vegetables through the Farmers Market Nutrition program."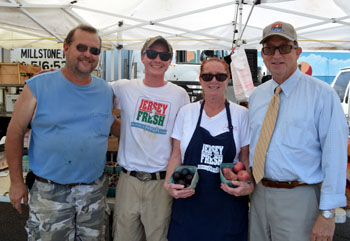 Farmer George Asprocolas, Stuart Faunce, market Manager Jesse Novak and Secretary Fisher at the West End Farmers Market
Fisher rounded out the day with a visit to the Chesterfield Healthy Community Farmers Market, which is in its second season and has several farmers and vendors including local bakeries and restaurants. It is open from June through September on Thursdays from 3:30 p.m. to 7 p.m. at the Chesterfield Elementary School.

"My goal with the farm market is to link our farming community with residential neighbors and use the market to help build a healthy and stronger community," said Market Manager William Curry. "I hope the farm market can be a meeting place where neighbors can meet, even if only for one day a week, to get to know one another."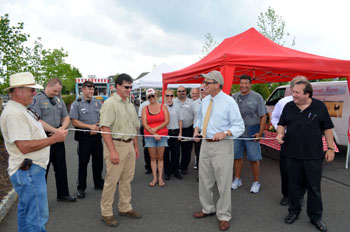 Secretary Fisher and Chesterfield Mayor Jeremy Liedtka cut the ribbon for a new season at the Chesterfield market.
Farmers at many markets throughout the state participate in the Women, Infants and Children (WIC) and Senior Farmers Market Nutrition Program (FMNP), which provides $20 vouchers for the purchase of locally-grown fresh fruits, vegetables and herbs.  The United States Department of Agriculture (USDA) program administered by the State Department of Health and Senior Services gives these vouchers to qualifying individuals, which are valid through November 30. 

In addition, some farmers can accept Supplemental Nutrition Assistance Program EBT cards, through use of wireless transponders, through the New Jersey Department of Human Services.

For complete information on locations, days and hours of community farmers markets throughout New Jersey, visit http://jerseyfresh.nj.gov/find/community.html.

For a chart showing what Jersey Fresh produce is in season, visit www.jerseyfresh.nj.gov/agriculture/jerseyfresh/find/availability.html.

For more information on the WIC and Senior FMNP, visit: www.state.nj.us/agriculture/divisions/md/prog/wic.html.