NEW JERSEY HOSTING TEACHER PROFESSIONAL DEVELOPMENT FOR AGRICULTURAL SCIENCE CURRICULUM
For Immediate Release: August 1, 2014


Contact:

Lynne Richmond
(609) 633-2954    
lynne.richmond@ag.state.nj.us 

(WOODSTOWN) – New Jersey Secretary of Agriculture Douglas H. Fisher today  visited Woodstown High School in Salem County where 12 agriculture teachers from seven states including four from New Jersey who are attending an 80-hour training course preparing them to teach a new rigorous, academic course on food science and safety in the fall.

The Curriculum for Agricultural Science Education (CASE) Institute is being hosted by Rutgers University, Woodstown High School and the New Jersey Department of Agriculture from July 27 through August 7.  The participants will become certified to field test the "Food Science and Safety" course and will be provided the curriculum and practical experience to teach the course upon completion of the nine day session.  The teachers will then report back to CASE on the course; any necessary adjustments will be made and then the course will be offered to all agriculture teachers.

Secretary Fisher observed while the educators in attendance discussed food processing and preservation and made fruit strips -- one of the many lessons they would teach during the school year.

"We are proud that New Jersey is hosting this institute because we have seen the benefits of CASE in our classrooms and are committed to making CASE available in as many schools and to as many students as possible," said Secretary Fisher. "The young men and women entering the agriculture industry need the science and math skills necessary to succeed in college and the job market. This new class is another tool our teachers will be able to use to maximize student success."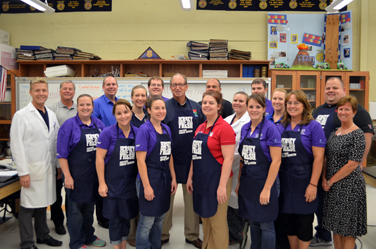 Secretary Fisher with the teachers participating in the CASE Institute, instructors, Woodstown School Superintendent Thomas Coleman Jr. and Salem County Freeholder Julie Acton

The New Jersey agricultural education teachers who will field test Food Science and Safety in the coming school year are:  Sara Cobb of Woodstown High School, Nichole Carroll of Cumberland Regional High School, Dan Delcher of Essex County Vocational School, Keely Ditizio of Salem County Vocational Technical School and Jennifeur Wilson of North Warren Regional High School, who took the course in another state.



CASE is an instructional system that provides intense teacher professional development and curriculum that is changing the culture of agriculture programs, in our state and country.  The CASE Program includes courses and lessons that build on each previous course/lesson coupled with inquiry-based lesson delivery style, leading students to a higher understanding of big-picture science, technology, engineering and math concepts in agriculture.

 

CASE is supported in New Jersey by the State Department of Agriculture, Office of Agricultural Education and State Department of Education, Office of Career and Technical Education. There are 19 New Jersey school districts offering one or more CASE courses: Introduction to Agriculture Food and Natural Resources, Principles of Agricultural Science – Plant, Principles of Agricultural Science – Animal, Animal and Plant Biotechnology, and Natural Resources and Ecology.  College credits for CASE courses are being earned from Rutgers University, Delaware Valley College, SUNY Cobleskill and several county colleges. 

For more information about New Jersey's agricultural education program in the Department of Agriculture, visit www.jerseyageducation.nj.gov.

For more information about the CASE program, visit www.jerseyageducation.nj.gov/agriculture/ag_ed/classroom/case.html and  www.case4learning.org.