SECRETARY FISHER CELEBRATES JERSEY PEACHES WITH PEACH DINNER
August Peach Events Being Held Around the State to Highlight Importance of Peaches in NJ

For Immediate Release: August 6, 2014
Contact: Lynne Richmond
(609) 633-2954
lynne.richmond@ag.state.nj.us 

(MULLICA HILL) – New Jersey Secretary of Agriculture Douglas H. Fisher today visited  blueplate Restaurant in Mullica Hill and was served a delicious three-course meal celebrating the Jersey Fresh peach harvest, one of the New Jersey Peach Promotion Council's Peach Month events.

Peaches used in chef Jim Malaby's dishes came from nearby Holtzhauser Farms in Mullica Hill.  Menu choices included white peach gazpacho, baked peach and cheese curd, rosemary scented fried Saturn donut peach, smoked and shaved pork belly with grilled peaches, brown sugar and peach brined chicken, peach cider braised beef short rib, hot smoked salmon with coriander seed marinated citrus peaches, and, for dessert, White chocolate-white peach croissant pudding or Holtzhauser Farms' mixed peach cobbler.

"We appreciate Chef Malaby's commitment to local and his support of nearby farmers," said Fisher.  "Peaches are one of New Jersey's top crops.  Malaby and chefs around our state are celebrating Peach Month by creating inventive dishes featuring Jersey peaches, much to the delight of their restaurant patrons."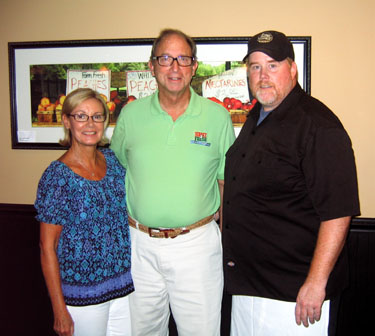 Secretary Fisher with his wife, Bonnie, and Chef Jim Malaby at the Just Peachy dinner

Malaby's blueplate is offering this special peach menu through Saturday, August 9.  Other South Jersey restaurants also have created "Just Peachy" menus during August, including Keg & Kitchen in Westmont, Braddocks Tavern in Medford, Otts Tavern in Medford, Tortilla Press Cantina in Merchantville and The Tortilla Press, Nunzio Ristorante, The Pop Shop, That's Amore, Sapori, L'Oceano, Indya and Bistro di Marino in Collingswood.

Blueplate has been open for nine years.  Malaby, a Culinary Institute of America graduate, has worked in five-star resorts and restaurants from Phoenix to Florida to New York City.  He said his restaurant's focus is farm to fork.

"When customers come in, they know where their food is coming from, that it's from the market down the street and it's fresh," said Malaby.  "I've been doing the peach dinner for five years now and compared to peaches from other parts of the country, Jersey peaches just taste better."

The New Jersey Peach Promotion Council reports that while peaches arrived a little later than usual, they received just enough rain and sunshine to produce sugars and color, making for a crop of optimum quality.  The Council worked with restaurants, farms, and farmers markets throughout the state to create events celebrating the peach harvest.  For a listing of all "Peach Party" events, go to www.jerseypeaches.com. 

New Jersey farmers grow 4,500 acres of peaches, producing 36.2 million pounds last year valued at $27.2 million.