DEPARTMENT OF AGRICULTURE UNVEILS PROJECT TO EDUCATE CITIZENS ABOUT TREE-KILLING PESTS
Focus on Emerald Ash Borer and Asian Longhorned Beetle

For Immediate Release: August 22, 2014
Contact: Lynne Richmond 
(609) 633-2954

(WEST ORANGE) – New Jersey Secretary of Agriculture Douglas H. Fisher today unveiled a new exhibit at Essex County Turtle Back Zoo in West Orange designed to educate the public about invasive pests threatening trees in New Jersey.

The display, located on the zoo's Pollinator Pathway, an educational walkway around the Orange Reservoir, has giant pictures of an emerald ash borer and Asian longhorned beetle, with cutouts for children to put their faces into the scene.  Along with the fun activity, there are signs explaining the threat the insects pose to state trees and how to contact the New Jersey Department of Agriculture in case people spot the bugs.

"The exhibit at the Turtle Back Zoo is part of the Department's outreach efforts to stop the spread of pests responsible for killing millions of trees in our region," said Secretary Fisher.  "Once the public knows what to look for, they can assist us in finding signs of invasive insects, helping to contain infestations."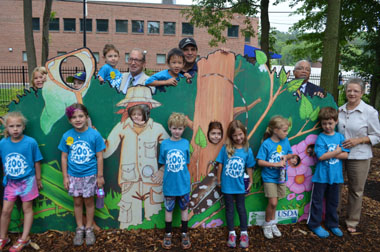 Secretary Fisher, Essex County Executive Joseph DiVincenzo, Bill Payne and Assemblywoman Mila Jasey with zoo campers at the display
The concept and design for the display came from Paul Kurtz, Department entolomogist and Forest Pest Outreach and Survey Program Manager.  He worked with the Turtle Back Zoo, as well as the Cape May County Zoo in Cape May Court House and World of Wings in Teaneck to locate the displays at the facilities to reach a greater number of people. 

The Turtle Back Zoo, 560 Northfield Avenue in West Orange, which gets 600,000 visitors each year, placed its exhibit in an area that is adjacent to the zoo and accessible to all for free.  Volunteers from Goldman-Sachs and the Randy Foye Foundation improved the site surrounding the display with plants and painting.

"Essex County Turtle Back Zoo is a special place where visitors of all ages can learn about nature and the importance of protecting the environment and natural habitats," said Essex County Executive Joseph N. DiVincenzo Jr.  "Linking the 1.7-mile walking trail with Turtle Back enables us to extend the zoo's mission beyond its walls and into the neighboring Essex County South Mountain Reservation and Orange Reservoir. We appreciate the support by Governor Chris Christie, Secretary Fisher and the New Jersey Department of Agriculture for this important educational resource. This display will enhance our visitor's understanding and awareness about the environment."

Besides Turtle Back Zoo, the display can be seen at the Cape May County Zoo, 707 North Route 9, Cape May Court House, a free county-owned zoo and World of Wings, 1775 Windsor Road, Teaneck.  Each exhibit cost $3,000, with funding coming from the U.S. Department of Agriculture Forest Pest Outreach and Survey Program.

The Department of Agriculture works to suppress and eradicate harmful insects that kill trees in New Jersey.  Currently, the Department is tracking infestations of emerald ash borer in Somerset and Burlington counties.  Asian longhorned beetle was successfully eradicated in the state by the Department, USDA and the New Jersey Department of Environmental Protection last year.

Most invasive insect discoveries in the United States have been made by private citizens.  In both the emerald ash borer and Asian longhorned beetle infestations in New Jersey, members of the public alerted authorities. 

To learn more about emerald ash borer, visit the New Jersey Department of Environmental Protection's website For more information about Emerald Ash Borer, visit http://bit.ly/1v2t3UP or the USDA's site at http://bit.ly/1sXM3CW.  For Asian longhorned beetle information, go to http://asianlonghornedbeetle.com.

Report signs of these beetles to the Department of Agriculture at 609-406-6939.