SHOWCASING NEW JERSEY'S GRAPE HARVEST
Secretary Fisher Kicks Off New Jersey Wine Week with Visit to Local Garden State Winery

For Immediate Release: September 16, 2014
Contact: Lynne Richmond 
(609) 633-2954              
lynne.richmond@ag.state.nj.us 

(EAST WINDSOR) – New Jersey Secretary of Agriculture Douglas H. Fisher today visited Working Dog Winery in East Windsor to announce the beginning of Wine Week in New Jersey, celebrating the Garden State's 2014 grape harvest.  He encouraged people to visit the state's wineries to learn more about the harvest and wine making in our state.

Governor Christie signed a proclamation declaring September 19 to 28 New Jersey Wine Week, honoring the wine industry for being a growing contributor to the state's economy.

"New Jersey's wineries are increasingly being recognized around the nation and the world for producing high quality and unique wines," said Secretary Fisher.  "The Garden State wine industry is an integral part of the state's agricultural and tourism industries, contributing to the economy and preserving open space."

New Jersey has 50 licensed wineries.  New Jersey is 10th in the nation in wine production, with 1.6 million gallons produced in 2012.  Last year, New Jersey wineries sold 447,425 gallons of wine. 

"The wine industry is like the wine itself: the environment needs to be right for it to thrive," said Michael Halfacre, Director of the Division of Alcoholic Beverage Control, New Jersey Department of Law and Public Safety.  "Our Division is receiving significant interest from wineries looking to expand their businesses and other entrepreneurs who are looking to enter the business for the first time. This is a good time to be a winemaker in New Jersey and celebrate the industry."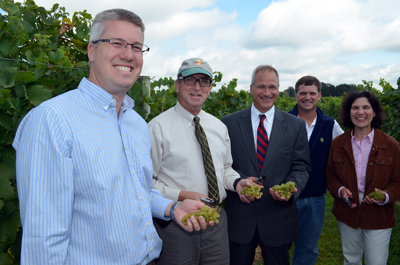 Larry Sharrott, Chairman of the Garden State Wine Growers Association, Secretary Fisher, Director Halfacre, Mark Carduner and East Windsor Mayor Janice Mironov showing the chardonnay grapes they just harvested

Wineries around the state will be celebrating Wine Week.  Working Dog Winery will have a live music event on September 21 and is offering wine week case discounts.

Working Dog started in 2001 when a group of friends decided it would be great to plant some grapes and make their own wine.  They started with three acres of Cabernet Franc and Chardonnay.  They now grow 17 acres on permanently preserved farmland.  Almost all of their 14 wine varieties are made with fruit they grow.  Last year, they harvested 48 tons of grapes and produced 3,700 gallons of wine. 

"The New Jersey wine industry is uniquely positioned for growth, due to its incredible grape-friendly soils, favorable climate and wine-hungry customer base," said Mark Carduner, one of the owners of Working Dog Winery. 

Working Dog is one of 42 member wineries of the Garden State Wine Growers Association.

"New Jersey Wine Week is a fantastic opportunity for the state's residents to learn about the quality fine wines being grown and produced at the 50 plus vineyards and wineries across the state," said John Cifelli, Garden State Wine Growers Association Executive Director.  "The support from our sister industries, the state, and Rutgers University is tremendous and encourages the strong growth trend of New Jersey wine to continue." 

The New Jersey Liquor Store Alliance (NJSLA) also will support this year's Wine Week.  They have an in-store program, "Greetings from Garden State Wine Growers," now through the holiday season to put a spotlight on local wineries.

Many New Jersey wineries have fall and holiday season activities.  For a listing of wineries, visit

http://

bit.ly/1a743yf.  For more information about the Garden State Wine Growers Association, go to www.newjerseywines.com.

To enjoy New Jersey wines at home, many wineries offer direct to consumer shipping of their wines within New Jersey and into other states thanks to a 2012 law signed by Governor Christie.