CHRISTIE ADMINISTRATION CELEBRATES NATIONAL SCHOOL LUNCH WEEK
Secretary Visits New Brunswick Middle School's Lunch Program

For Immediate Release: October 16, 2014
Contact: Lynne Richmond 
(609) 633-2954
lynne.richmond@ag.state.nj.us 

(NEW BRUNSWICK) – New Jersey Secretary of Agriculture Douglas H. Fisher today marked National School Lunch Week with a visit to New Brunswick Middle School to applaud the New Brunswick School District's efforts to offer students meals that are nutritious and appealing.

Secretary Fisher observed a school lunch period and spoke with students and food service officials about the healthy menu items being offered.

"We are proud of how school districts around the state have embraced the new federal nutrition school lunch guidelines and have worked hard to involve students in the process," said Secretary Fisher.  "We know that serving more nutritious foods at lunch only accomplishes its goal if children eat the meal.  We congratulate New Brunswick for being a leader in school lunch."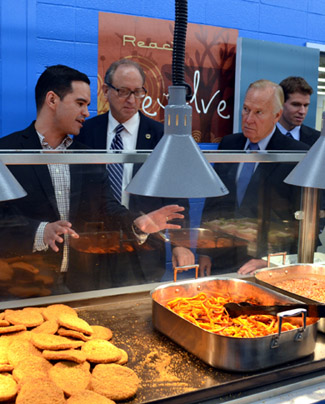 John Santiago shows Secretary Fisher and New Brunswick Mayor James Cahill the food court stations at the middle school
Lunch at New Brunswick Middle School is served in a "food court" style, where students daily have a choice of pizza and other stuffed breads, assorted sandwiches and salads made to order and a traditional rotating menu item.  Today's lunch consisted of a chicken patty sandwich bar, plain and vegetable pizza and assorted sandwiches with side dishes including sweet potato fries, carrot sticks, three-bean salad and barbecue baked beans.
Chartwells Resident District Manager John Santiago said a Youth Advisory Council was organized to consult with the food service staff on foods that the students wanted to see on the menu.  They also utilize a state of the art menu planning and nutrition analysis tool called Webtrition.  They constantly update their menu database to improve overall quality and acceptability of meals.
In addition, New Brunswick highlights foods on a monthly basis to encourage students to try seasonal and nutrient-rich foods.  The district's food service provider, Chartwells, has implemented the "Our Simply Good" food and nutrition campaign which focuses on important topics throughout the year such as eating local, eating breakfast and eating complete, well-balanced meals.  And their "Chefs2Schools" program brings professional chefs into their cafés to share nutritional information with students in a fun and appealing way by showing them how to create healthy dishes that taste good. 

New Jersey schools over the last three school years have implemented the 2010 federal Healthy, Hunger-Free Kids Act, which required more fruits and vegetables, whole grains, fat-free or low-fat milk, fat-free flavored milk, and limited saturated fat and portion size.  It set requirements for school breakfast and snacks as well.

This school year schools were required to serve only whole grains and sodium targets began being phased in.  There also are suggested maximums for grains and meat/meat alternatives.

National School Lunch Week was created by the School Nutrition Association to encourage participation in the National School Lunch Program and recognize the school districts providing healthy meals every day.  The New Jersey Department of Agriculture administers the program in the Garden State.