Home
>
News
>
Press Releases
>
2014
>
CHRISTIE ADMINISTRATION ANNOUNCES 2015 OUTSTANDING YOUNG FARMER, SEEKS APPLICATIONS FOR 2016 HONOREE
CHRISTIE ADMINISTRATION ANNOUNCES 2015 OUTSTANDING YOUNG FARMER, SEEKS APPLICATIONS FOR 2016 HONOREE
Sussex County Farmer to Receive Award at 2015 State Agricultural Convention

For Immediate Release: October 16, 2014
Contact: Lynne Richmond
(609) 633-2954
lynne.richmond@ag.state.nj.us 

(TRENTON) – Henry Richard Byma, a 36-year-old Sussex County dairy, hay and grain farmer, has been chosen as New Jersey's 2015 Outstanding Young Farmers by the New Jersey State Board of Agriculture.  Byma, who farms 680 acres in Wantage, will be presented with his award at the February 2015 New Jersey State Agricultural Convention in Atlantic City.

"Coming from a premier dairy farming family, Henry Byma continues to innovate and improve his farm operation, enacting practices to increase both milk and grain production while being environmentally responsible," said New Jersey Secretary of Agriculture Douglas H. Fisher.  "He is a leader in the agricultural community and will proudly represent New Jersey in the coming year as Outstanding Young Farmer."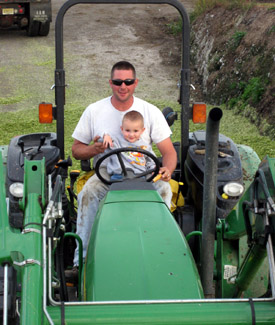 A third-generation dairy farmer, Byma took the Farm and Industry Short Course at the University of Wisconsin at Madison with the goal of growing his family business to continue to be profitable, while at the same time, produce high-quality products through best practices and environmental health.

After returning from school and working as a full-time employee responsible for the family herd, in 2007 Byma and his father formed a business partnership, By-Acre Holsteins, LLC.  Since then, Byma added a 42-stall milking barn to an existing 64-stall barn and made other changes that enabled them to cut costs and increase herd production averages from 18,900 lbs. of milk per year to 21,700 lbs. of milk per year.  He installed a 21-stall calf barn to provide a healthier, more efficient environment for calf development and enrolled in the New Jersey Cattle Health Assurance Program in which the farm is evaluated on its handling of herd health and cow comfort and the herd is tested for ailments.

Byma also has undertaken several conservation practices including use of cover crops to reduce soil erosion and water run-off; planted no-till corn to prevent soil erosion; and planted orchard grass to prevent water contamination.  In 2012, a complex drainage system was constructed on the farm to reduce barnyard run-off and the farm is currently working with the Wallkill Watershed and New Jersey Department of Environmental Protection to develop a roof system on farm building to collect rain and consolidate the run-off into the stock pond, already on the premises.  They also have implemented a Conservation Nutrient Management Plan that allows them to more efficiently fertilize their fields while reducing any negative effects on water supplies.

"As the father of three young children, I feel it is essential to protect and preserve the natural resources all around us so that our children will have a bright future," said Byma.

Byma said his goal is sustainability of his operation so he has partnered with Lioni Latticini, Inc. to produce fresh mozzarella that is being sold in local supermarkets.

"We believe this partnership is just one more step in making By-Acre dairy a more profitable and, therefore, longer lasting business – a business that will be around for generations to come," said Byma.

Byma and his wife, Christine, are active in the agricultural community.  Henry is Vice President of the Sussex County Holstein Association and a member of the Sussex County Milk Producers Co-op, National Holstein Association, New Jersey Holstein Association, New Jersey State Fair/Sussex County Farm and Horse Show, Sussex County Board of Agriculture, and New Jersey Farm Bureau.  Both he and Christine are active in 4-H and host and organize dairy judging clinics, as well as donate calves to exemplary 4-H members.  Henry is a member of the Beemerville Volunteer Fire Company and a Deacon at the Sussex Christian Reformed Church.

The Bymas have three sons, ages 7, 5 and 3.

New Jersey annually recognizes the outstanding achievements of a young farmer who is an upstanding leader, respected agriculturalist and is active in community or faith organizations.  The Department of Agriculture is now accepting applications for the Year 2016 Outstanding Young Farmer (OYF) Award.  The submission deadline for nominations is January 15, 2015.

Nominees must be farm operators, deriving a minimum of two-thirds of their income from farming and must be between the ages of 21-40, not becoming 41 prior to January 1, 2015.  Candidates who have a financial interest in the farm operation (a sole proprietor, partner, or a corporation) will receive higher ranking in the OYF judging process. However, nominees may also include salaried farm managers and employees who are actively involved in policy and management decisions.  Submission of a financial statement is not required for state competition.

A panel of five judges reviews each nominee's application based on the following criteria: progress in their agricultural career (50 percent of the total score); soil and water conservation practices (25 percent of the total score); and contribution to his/her community, state and nation (25 percent of the total score).

Any individual or organization can nominate deserving young farmers' names. Persons who have been nominated in the past or previous state winners who did not make it to the National competition can be re-nominated. However, these candidates must still meet the eligibility criteria.

Since the first award was presented, eight New Jersey farmers' names have been named National Outstanding Young Farmer: Abbott Lee (1985), James B. Giamarese (1989), Robert Von Thun, Jr. (2001), Jeffrey VanderGroef (2005), H. William Sytsema (2009), Richard Norz (2010), John Melick (2011) and Paul "Duce" Tallamy II (2012).

The OYF program is the oldest farmer recognition program in the United States, with the first group of national winners selected in 1955.  The goals of the OYF program are to foster better urban-rural relations through the understanding of farmers' challenges, as well as the appreciation of their contributions and achievements; to bring about a greater interest in farmers/ranchers; and to help build an urban awareness of the farmers' importance and impact on America's economy.  The OYF program encourages a greater interest in agriculture through the appreciation of the farmers' contributions and achievements and recognizes local citizens' contributions and encourages better urban-rural relations. The National OYF program is sponsored by Deere & Company, supported by the U.S. Junior Chamber of Commerce and the National Association of County Agriculture Agents (NACAA), and is administered by the Outstanding Farmers of America (OFA) Fraternity.

For more information on the state's Outstanding Young Farmer program, visit: www.nj.gov/agriculture/about/sba/cover.html or call Joe Atchison, OYF Program Manager at (609) 984-2223 or email joe.atchison@ag.state.nj.us.