BURLINGTON COUNTY TEEN NAMED 2015 NJ AGRICULTURAL FAIR AMBASSADOR
For Immediate Release: November 5, 2014
Contact: Lynne Richmond 
(609) 633-2954
lynne.richmond@ag.state.nj.us 

(TRENTON) – Kirsten Jeansson of Tabernacle has been chosen as the 2015 New Jersey Agricultural Fair Ambassador.  The 16-year-old Seneca High School Junior was selected from among seven contestants by the Agriculture Fair Association of New Jersey during the group's fall dinner on November 1 in Easthampton.

"Kirsten has a great passion for horses and the New Jersey agriculture industry, which has led her to attain this great honor," said New Jersey Secretary of Agriculture Douglas H. Fisher. "Kirsten will be a wonderful spokesperson as she attends our state's agricultural fairs next summer, inspiring other young people to get involved in agricultural youth organizations."

As ambassador, Jeansson is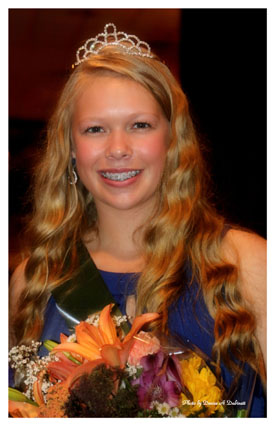 charged with visiting the state's agricultural fairs in 2015, discussing the fairs, promoting agritourism to the public and bringing people together to support the state's agriculture industry. 

Being named Agricultural Fair Ambassador is not the first honor Jeansson has received for her involvement in New Jersey agriculture.  She is the current New Jersey 4-H Equestrian of the Year and the Burlington County Farm Fair Queen.

Jeansson did not grow up on a farm but came to agriculture through her love of horses.  She rides every day and cares for her horse through the Gleneayre Work-to-Ride Program.  She now says she plans to follow a career path into equine management or equine science.

Photo courtesy of Denise Dabinett

"Agriculture expands much farther beyond the corn field and each facet in the industry allows New Jersey to be known as the Garden State," said Jeansson.  "My involvements in the equine as well as the agricultural industries have played a key role in deciding what I wish to pursue for a career in the future."

Besides being a 4-H member and participating in numerous equine events, Jeansson is an honor roll student, writes for the school newspaper, on student government and is a Senior Girl Scout.

This is the 12th year the Agricultural Fair Association of New Jersey has named an ambassador.  In choosing an ambassador, the Association seeks a good representation of young people active in agriculture in the Garden State and their county fair. 

There were 20 agricultural fairs in the state this past summer, including the New Jersey State Fair at the Sussex County Fairgrounds.  The earliest fair is held in June, with the final fair of the season in September.

For more information on New Jersey's agricultural fairs, visit www.njagfairs.com.