CHRISTIE ADMINISTRATION KICKS OFF CHOOSE AND CUT CHRISTMAS TREE SEASON
Spirit of Giving is Ceremony Theme

Immediate Release: December 1, 2014
Contact: Lynne Richmond
(609) 633-2954
lynne.richmond@ag.state.nj.us 

(LOPATCONG TOWNSHIP) – As part of the Christie Administration's fourth annual 'Season of Service' initiative, New Jersey Secretary of Agriculture Douglas H. Fisher today cut a Christmas tree at Perfect Christmas Tree Farm in Lopatcong Township, Warren County, ceremonially kicking off the choose and cut Christmas tree season. Secretary Fisher also thanked growers for their continued generosity and participation in the Trees for Troops Program.

Governor Christie proclaimed December 1, 2014 as Jersey Grown Christmas Tree Day, encouraging New Jersey residents to support the state's farmers and visit choose and cut Christmas tree farms, as well as help those in the military during the holiday season.  

"New Jersey Christmas tree farmers grow some of the most beautiful and healthy trees in the nation, providing families with life-long memories," said Secretary Fisher. "We encourage people to pay a visit to a Christmas tree farm this holiday season to find their perfect tree and experience the season of giving, as many Christmas tree farmers donate trees to members of the military and collect funds to support emergency feeding programs."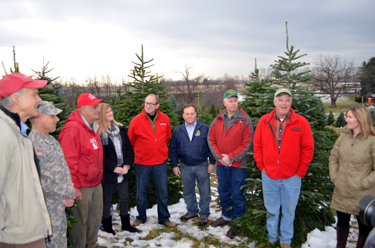 Bruce Barbour of Rutgers Cooperative Extension; Col. Mark Piterski of the NJ Dept. of Military and Veterans Affairs; John Curtis; Dawn Higgins of Senator Mike Doherty's office; Secretary Fisher; Assemblyman John Dimaio; Freeholder Rich Gardner; Chris Nicholson, Pres. of the NJ Christmas Tree Growers Association; and Kristina Guttadora of the NJ Agricultural Society and Farmers Against Hunger


Cynthia and John Curtis, owners of Perfect Christmas Tree Farm, were named Grand Champion in the 2014 New Jersey Christmas Tree Growers Association Christmas tree contest for their 7½ foot Frasier Fir. It has been a long-standing tradition that the kick-off of the choose-and-cut Christmas tree season takes place at the Grand Champion's farm. The Curtis' grow more than 42 tree varieties on 40 acres with about 1,000 trees available.

The Nordmann Fir tree cut by Secretary Fisher was given to Riverview Arts Center in Phillipsburg.

"Additionally, we give a free tree to any church that requests one," said Cynthia Curtis. "We have been donating trees to churches for as long as we have been growing trees. We donate trees to the Phillipsburg Chamber to distribute to those in need and to the towns of Phillipsburg and Lopatcong for their outdoor celebrations."

 

In addition, the Curtis' will make a cash donation and will give 10 trees to the Trees for Troops initiative, a charity program that donates real Christmas trees to service members and their families, sponsored by FedEx and the Christmas SPIRIT Foundation.

The New Jersey Christmas Tree Growers Association has participated in Trees for Troops for several years. Last year, the growers donated 650 trees and $1,200 to the program. This year, the trees collected by the New Jersey growers will go to families at the Marine Corps Air Station Cherry Point in North Carolina and MacDill Air Force Base in Florida. The U.S. Coast Guard Training Center in Cape May will receive 50 trees from other states.  

"During this holiday season, there are tens of thousands of troops deployed around the globe safeguarding our nation's interests," said Brig. Gen. Michael Cunniff, The Adjutant General, Department of Military and Veterans Affairs. "This generous donation will bring holiday cheer to our troops and their families who have given so much so all Americans can enjoy this joyous time of year."  

Christmas tree growers also collect funds for Farmers Against Hunger, which gleans and distributes donated produce from New Jersey farmers to food banks, food pantries and soup kitchens around the state. Last year, more than $3,000 were collected.  

"With the support of over 25 Christmas tree growers participating in the program, we have been able to publicize our program to a wide audience and gain many new volunteers and supporters, while raising operating funds," said New Jersey Agricultural Society Executive Director Kristina Guttadora. "We collect an average of 1.2 million pounds of fresh produce every year from farms, grocery stores and wholesale produce companies who support the program and deliver this product free of charge to over 70 community organizations serving those in need. This is often the only source of fresh produce for the clients, and they are so grateful to receive such a quality product."

Part of the Garden State's four seasons of agritourism, now is the time many families visit tree farms to cut their own Christmas trees. Almost 69,000 trees are cut in New Jersey each year. The 2012 U.S. Census of Agriculture ranked New Jersey seventh in the nation in the number of Christmas tree growers, with 809 farms that grow more than 4,600 acres of Christmas trees in the state.  

Christmas tree growers in New Jersey may participate in the Jersey Grown program, which allows farmers to tag their trees with the Jersey Grown brand to easily identify that their Christmas trees are grown in New Jersey. Jersey Grown includes quality standards and is similar to the well-known Jersey Fresh branding program for produce and other agricultural products.  

The New Jersey Christmas Tree Growers' Association, organized in 1950, is a statewide organization of growers, professionals and industry leaders dedicated to the promotion and marketing of Christmas trees and related products. A listing of farms consumers can visit is available at: www.njchristmastrees.org/where_find_christmas_tree.html.