Home
>
News
>
Press Releases
>
2014
>
CHRISTIE ADMINISTRATION WELCOMES CHRISTMAS TREE DONATION TO THE MORRIS COUNTY FAMILY SUCCESS CENTER
CHRISTIE ADMINISTRATION WELCOMES CHRISTMAS TREE DONATION TO THE MORRIS COUNTY FAMILY SUCCESS CENTER
For Immediate Release: December 12, 2014
Contact: Agriculture - Lynne Richmond
(609) 633-2954
Children and Families - Ernest Landante
(609) 292-0422

(DOVER) -- As part of the Christie Administration's fourth annual 'Season of Service' initiative, New Jersey Secretary of Agriculture Douglas H. Fisher and New Jersey Department of Children and Families Commissioner Allison Blake today accepted the donation of cut Christmas trees to the Morris County Family Success Center in Dover.

Secretary Fisher and Commissioner Blake held a ceremony to distribute the trees and live wreaths donated by Christian Nicholson, owner of Hidden Pond Tree Farm in Mendham, to families in need from the local area.

"We are very proud of our state's Christmas tree farmers, who each year donate trees to those in need and military families and collect funds to feed the hungry," said Secretary Fisher.  "I encourage people to visit choose and cut Christmas tree farms that generously support these worthy causes."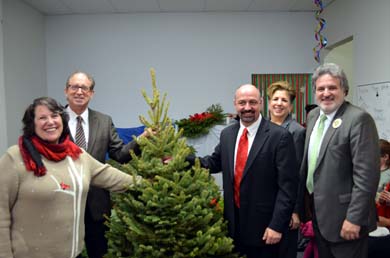 Commissioner Blake and Secretary Fisher show one of the donated trees, along with Dover Mayor James Dodd, Ilise Zimmerman, Exec. Dir. of Partnership for Maternal and Child Health of Northern New Jersey and Carlos Caprioli, Morris County Family Success Center Program Manager

In addition, members of the Phillipsburg High School FFA will distribute trees donated by Evergreen Valley Christmas Tree Farm in Washington, Warren County, to families through the NORWESCAP Family Success Center later this month.

"Few things symbolize this season of joy and happiness more than a Christmas tree," said Commissioner Blake. "Thanks to Hidden Pond Tree Farm and their wonderful donation, many young children and their families will share the excitement of the holiday with their own Christmas tree."

Last year, the Christmas tree growers donated trees to the NORWESCAP Family Success Center, as well as 650 trees and $1,200 to Trees for Troops, a charity program that donates real Christmas trees to service members and their families, sponsored by FedEx and the Christmas SPIRIT Foundation.  They also collected more than $3,000 for Farmers Against Hunger, which gleans and distributes donated produce from New Jersey farmers to food banks, food pantries and soup kitchens around the state.

Family Success Centers (FSC) are community-based, family-centered neighborhood gathering places where community residents can go for family support, information, referrals and access to services at no cost.  Free services provided by FSCs include: supportive counseling for parents raising children; classes and support groups for families, single parents, and teens; parent-child activities; and a variety of workshops on topics such as stress reduction, financial literacy, leadership/empowerment, education, employment, domestic violence, nutritional awareness, healthcare resources, and financial assistance. There are 51 FSCs located throughout New Jersey.  To learn more about FSCs, visit http://nj.gov/dcf/families/support/success/.

The choose and cut Christmas tree industry is an important part of the New Jersey agriculture industry.  Almost 69,000 trees are cut in New Jersey each year.  The 2012 U.S. Census of Agriculture ranked New Jersey seventh in the nation in the number of Christmas tree growers, with 809 farms that grow more than 4,600 acres of Christmas trees in the state.